THIS IS AN ARCHIVE OF EVERYTHING KIOSK HAS COLLECTED. TO MEET THE DIGITAL, WE HAVE A PHYSICAL, CURRENTLY IN STORAGE IN NEW YORK. NOTHING YOU SEE HERE IS FOR SALE. PLEASE USE AS A REFERENCE AND AN INSPIRATION AND PLEASE WRITE US IF YOU HAVE ANY QUESTIONS OR INFORMATION TO SHARE.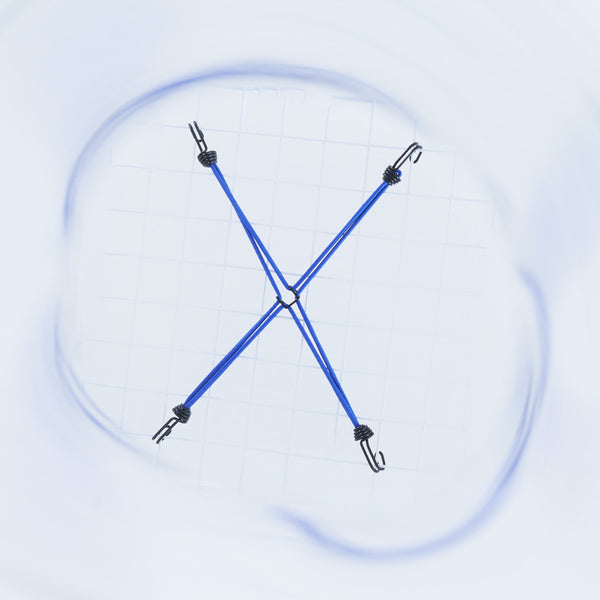 X Band
12"
Elastic, Rubber & Metal
JAPAN
It's for the bicycle basket, and apparently to foil thieves. Although, are there "thieves" in Japan? I mean, there are criminals, but petty thieves who reach into people's bicycle baskets? I find this hard to believe. How about New York? I remember the time I caught a petty thief at Kiosk. I saw him quite delicately slip a carpenter's knife up his sleeve on the way out the door. When I am in Kiosk, I get a little nuts sometimes - you could say possessed. The ultra-compulsive side takes over, and I become hyper-territorial. At times, I don't know exactly where I am or what happens. It must be called "shopkeeper syndrome." Anyway, I was so maddened by what I had just seen, I yelled to the guy across the room, past another customer in the store. (And the guy looked like a thief: tough, you know.) I yelled: "Hey, you like that knife, huh? I do too, but I already paid for it, and YOU, pal, have to pay for it too!" He stopped, slid it out of his sleeve, turned around, and came up to me. (I was so possessed I was literally seeing red, and if possible, I think, I was almost rabid.) He put his face right near mine and said, "Who are you, the fucking manager?" and I said, "No, I'm the fucking owner, and YOU can give me the fucking knife." He did. So much for thieves. Avoid confrontation and use the X-Band. The customer in the store turned, gave me a slight nod, and went on shopping. Oh, huh, New York.