THIS IS AN ARCHIVE OF EVERYTHING KIOSK HAS COLLECTED. TO MEET THE DIGITAL, WE HAVE A PHYSICAL, CURRENTLY IN STORAGE IN NEW YORK. NOTHING YOU SEE HERE IS FOR SALE. PLEASE USE AS A REFERENCE AND AN INSPIRATION AND PLEASE WRITE US IF YOU HAVE ANY QUESTIONS OR INFORMATION TO SHARE.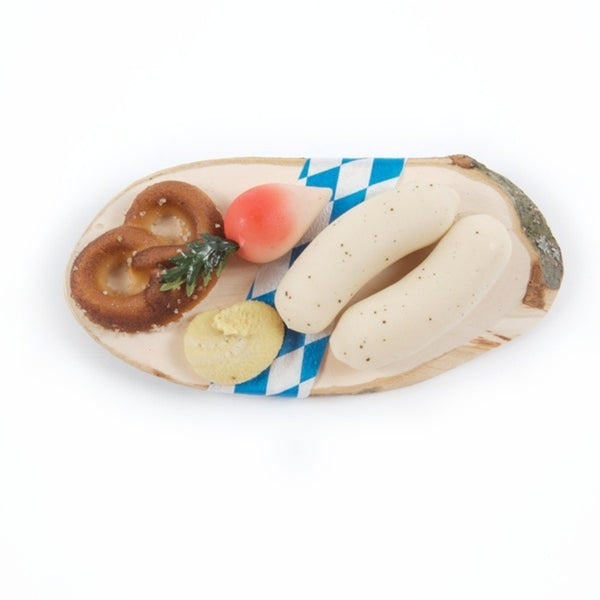 Wurst Marzipan
8" x 4" x 1.5"
Almond, Sugar, Coloring & Wood
GERMANY
One of Bavarians' worst habits is zuteln - or "how to gross out your friends by sucking down a grey sausage in one go." Yes, I am talking of Weißwurst. It is a grayish white veal and pork sausage that traditionally is so perishable, you have to eat it before lunch as your second breakfast (don't you have several?). Actually not such a bad sausage - have it with sweet mustard, a pretzel and a gigantic glass of weisse - wheat beer. One good second breakfast! Our specific plate of goodness can also be had for breakfast, with similar, but more severe, results. It is a marzipan Weißwurst - a marzipan pretzel with some marzipan mustard to go with it and a cute marzipan radish. No, we will not supply marzipan weisse. Okay, okay...we horse around a lot. If you do go to Munich, don't miss out on trying it. It looks awful when you don't know how to eat it - but it is really good! What? The marzipan? No, no - I meant the meat and bread one. The marzipan one is just plain…beautiful. In a marzipan Weißwurst kind of way. Munchie Munich!