THIS IS AN ARCHIVE OF EVERYTHING KIOSK HAS COLLECTED. TO MEET THE DIGITAL, WE HAVE A PHYSICAL, CURRENTLY IN STORAGE IN NEW YORK. NOTHING YOU SEE HERE IS FOR SALE. PLEASE USE AS A REFERENCE AND AN INSPIRATION AND PLEASE WRITE US IF YOU HAVE ANY QUESTIONS OR INFORMATION TO SHARE.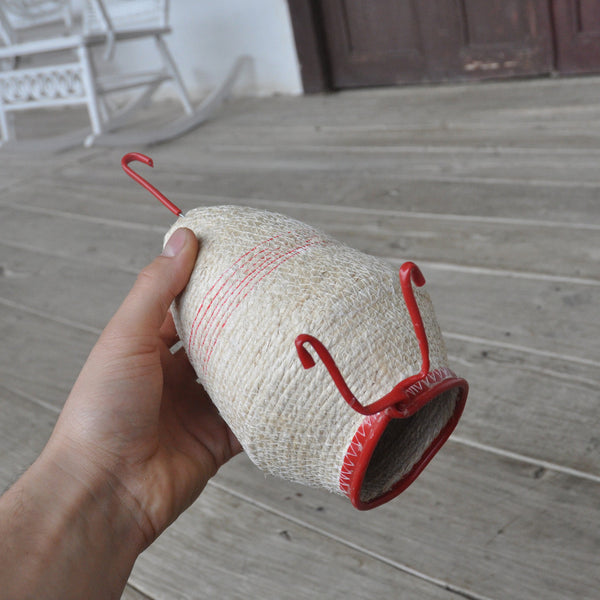 Woven Bird House
6.5" x 5" x 6"
Natural Cord & Vinyl Coated Wire
COLOMBIA
When he got to Colombia, Chris had no idea that Colombian birds are so industrious. And apparently, they are not - they are just as lazy as American or Belgian birds - they keep on making their unstructured nests of sticks, bits and other found pieces. Fortunately, we, the people, can stir things up and give them a proper house built to code, a house to build a future in, or just a house to relax with a pack of seed and a drop of water. Commonly seen under roof edges or hanging off a tree - they make fowl urbanization a snap! I have never been to Colombia, but my friend Chris has and he says Colombian birds tweet with an accent.