THIS IS AN ARCHIVE OF EVERYTHING KIOSK HAS COLLECTED. TO MEET THE DIGITAL, WE HAVE A PHYSICAL, CURRENTLY IN STORAGE IN NEW YORK. NOTHING YOU SEE HERE IS FOR SALE. PLEASE USE AS A REFERENCE AND AN INSPIRATION AND PLEASE WRITE US IF YOU HAVE ANY QUESTIONS OR INFORMATION TO SHARE.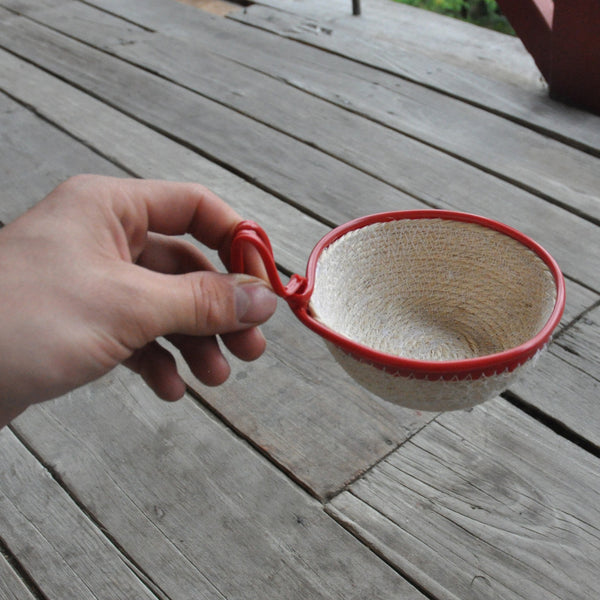 Woven Bird Food Basket
5.5" x 4.5" x 3"
Natural Rope & Vinyl Coated Wire
COLOMBIA
Luckily, when Chris came back from Colombia he brought a few things with him. One of the items was this bird food basket. I say "luckily" as we had a very demanding little bird we needed to give a gift to. This bird's name is Kanzi and he lives with Bella and Jonas in Stockholm. He travels to the countryside too. What to give the bird who has everything in the world? When we arrived at the house, Kanzi flew around, bossing us here and there, rounding up the troops like a sheep dog of sorts. We were all hungry and we started cooking. I almost dug into some popcorn in a bowl near Kanzi's tree branch but I was distracted. Marco, on the other hand, wandered in and started snacking from the bowl. Fast forward a few hours and Kanzi is presented with his gift. He seems excited and Bella decides we should put it straight to good use. So she walks over to the bowl with the popcorn and puts what Marco has not eaten into his just gifted bowl. "It's so nice for him, now he does not have to hop off his branch to get his food from the bowl, plus his poop used to go into the bowl too. Can you believe Henry was eating out of the bowl yesterday? Ha ha." Marco got up and drank a big glass of water. Oh Kanzi...can you imagine all the beautiful birds I am going to see when I visit Colombia?