THIS IS AN ARCHIVE OF EVERYTHING KIOSK HAS COLLECTED. TO MEET THE DIGITAL, WE HAVE A PHYSICAL, CURRENTLY IN STORAGE IN NEW YORK. NOTHING YOU SEE HERE IS FOR SALE. PLEASE USE AS A REFERENCE AND AN INSPIRATION AND PLEASE WRITE US IF YOU HAVE ANY QUESTIONS OR INFORMATION TO SHARE.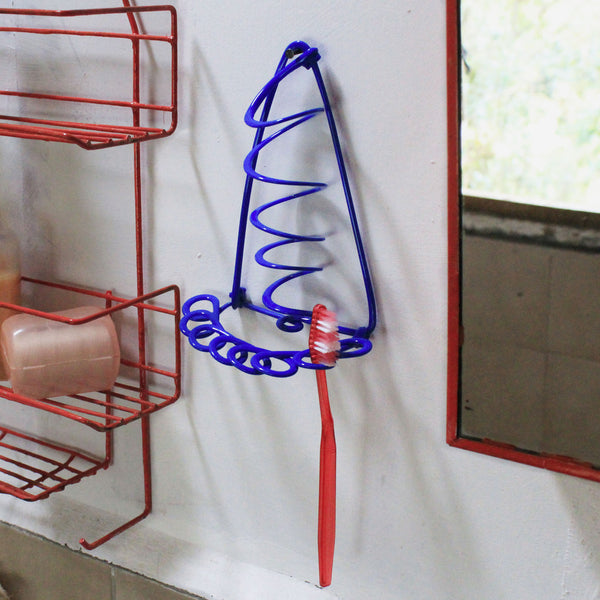 Wire Toothbrush Holder
8" x 6" x 2.5"
Vinyl Coated Wire
COLOMBIA
If you look carefully, you will notice: 8 spots for toothbrushes and one spot for toothpaste, so it's perfect for that two bedroom "artists' loft" in Williamsburg you share with your 6 other roommates. Two in each bedroom equals 4, with one more in each corner of the living room. The holder's construction is indestructible, made of three pieces of wire and easy to clean. No more toothbrush cup with the goo on the bottom. Yuck! I have not been to Colombia, but my friend Chris has, and he hung the holder in his bathroom right when he found it. This is the first item I took home from the collection. We have it hanging in our bathroom. At first there was a dilemma, as Marco and I use different toothpastes, and there are only two of us. But the metal tube of Marco's Couto toothpaste wraps around the holder perfectly well and kind of hangs there.