THIS IS AN ARCHIVE OF EVERYTHING KIOSK HAS COLLECTED. TO MEET THE DIGITAL, WE HAVE A PHYSICAL, CURRENTLY IN STORAGE IN NEW YORK. NOTHING YOU SEE HERE IS FOR SALE. PLEASE USE AS A REFERENCE AND AN INSPIRATION AND PLEASE WRITE US IF YOU HAVE ANY QUESTIONS OR INFORMATION TO SHARE.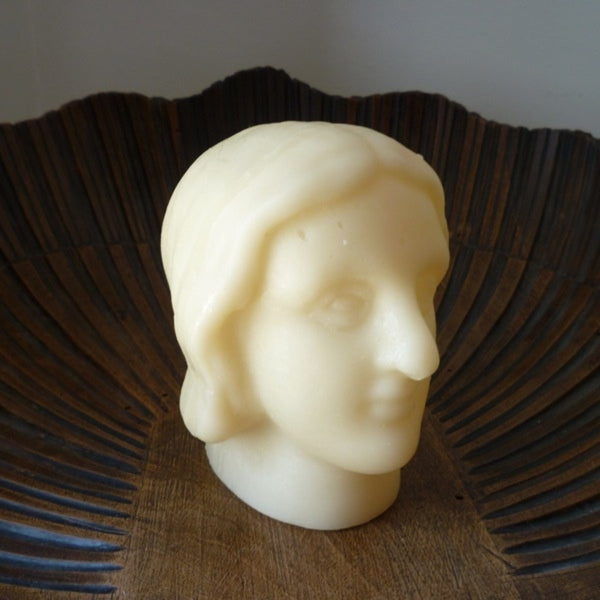 Wax Girl Head
3.5" x 4" x 4.5"
Wax, Scent & Majjiq Powers
PORTUGAL
In Fátima, a major Catholic shrine, one of the things you can do to save or fix yourself is to toss a wax depiction of your problem into a gigantic oven and say a prayer to the Catholic God. For example, I would toss this book in and hope I could finally get through a book without falling asleep, or maybe get around to doing my bookkeeping. Book a trip? That's a stretch, but funny. Not only are there books to choose from, but heads, backs, intestines, legs, feet, hands, cars, motorcycles, etcetera. Pretty sure you can get your more fragile "secret" body parts if you happen to ask the right questions. Which we didn't. Made in the old days by cerieiros, the wax workshops that now are becoming so rare, they are mostly produced in the Mira d' Aire area, not far from Fátima. Remember the wax lips we used to chew on? They had the same flavor as Teaberry gum. Not the same thing.