THIS IS AN ARCHIVE OF EVERYTHING KIOSK HAS COLLECTED. TO MEET THE DIGITAL, WE HAVE A PHYSICAL, CURRENTLY IN STORAGE IN NEW YORK. NOTHING YOU SEE HERE IS FOR SALE. PLEASE USE AS A REFERENCE AND AN INSPIRATION AND PLEASE WRITE US IF YOU HAVE ANY QUESTIONS OR INFORMATION TO SHARE.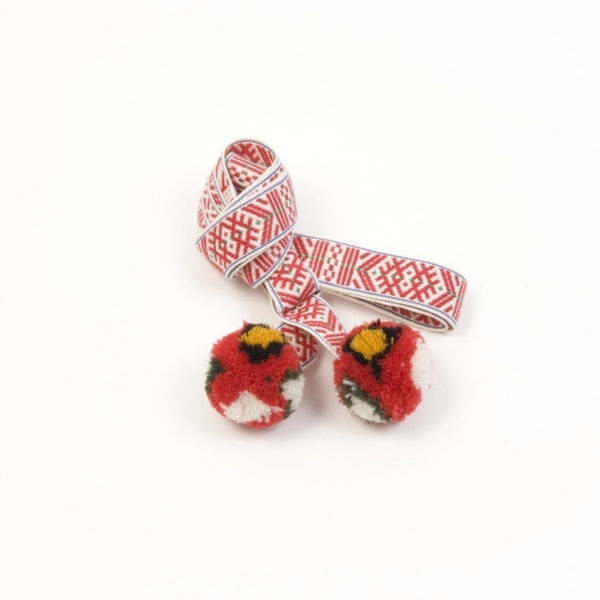 Waistband from the Traditional Swedish Costume
80" x 3"
Cotton & Wool
SWEDEN
The waistband appears on Swedish costumes from practically every region. It varies slightly from area to area. This example is from the region of Dalarna and specifically the town of Leksand. Dalarna is centered on the lake of Siljan and as one drives around it, the regional costume changes both in a slight and dramatic way. The band is worn wrapped once around the waist and tied in a knot to the side so the balls hang down quite low to the ground. We sometimes double it so they do not hang as low or wear it as a necklace. The band is not handmade, but the balls are, and it is assembled to order by a grandmother. The tradition of the Swedish costume is still very strong in the area.