THIS IS AN ARCHIVE OF EVERYTHING KIOSK HAS COLLECTED. TO MEET THE DIGITAL, WE HAVE A PHYSICAL, CURRENTLY IN STORAGE IN NEW YORK. NOTHING YOU SEE HERE IS FOR SALE. PLEASE USE AS A REFERENCE AND AN INSPIRATION AND PLEASE WRITE US IF YOU HAVE ANY QUESTIONS OR INFORMATION TO SHARE.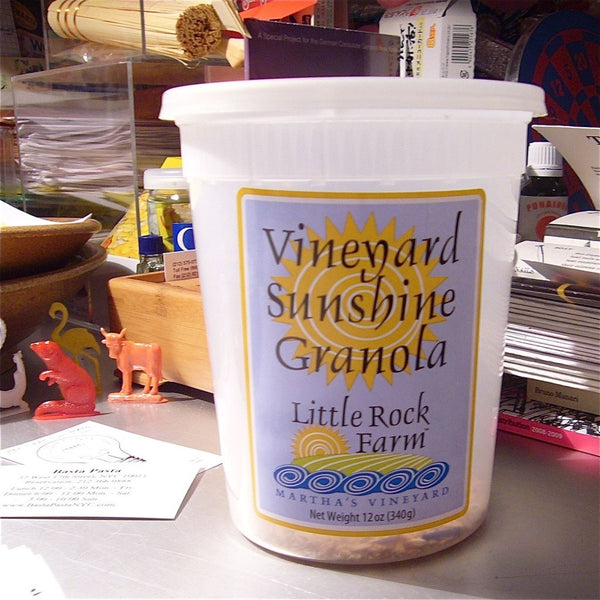 Vineyard Sunshine Granola
5.5" x 5"ø, 12 oz
Oats, Pecans, Almonds, Coconut, Dried Blueberries, Brown Sugar, Butter, Maple Syrup, Cinnamon, Nutmeg & Orange Zest
USA
This is one of the more personal products for me. Not only was the first sample container emptied by me, but another was, and another by everyone else in the office. I am picky about granola; I want crunchy first of all, not too sweet is important, not processed - a little bit of fruit and if there are nuts, they have to be good nuts. This granola, I can say quite positively, is the best darn granola I have ever had. When I told Marco I wanted to include it he said, "Granola? Are we some sort of a hippie store?! No way, forget it!" But I thought, you know what? This granola is what KIOSK is all about - we are not about design or fancy jazz; we are about good stuff made by independent producers who are working hard to do their thing. Go granola!