THIS IS AN ARCHIVE OF EVERYTHING KIOSK HAS COLLECTED. TO MEET THE DIGITAL, WE HAVE A PHYSICAL, CURRENTLY IN STORAGE IN NEW YORK. NOTHING YOU SEE HERE IS FOR SALE. PLEASE USE AS A REFERENCE AND AN INSPIRATION AND PLEASE WRITE US IF YOU HAVE ANY QUESTIONS OR INFORMATION TO SHARE.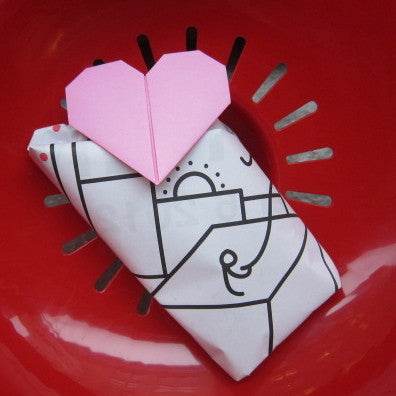 Valentine Chocolate
Milk Chocolate with White Nonpareils
7 in a package
THE NETHERLANDS
I never would have guessed that Valentine's Day is the second most celebrated holiday in the world with so many people hiding in fear of the day and breaking out in great hives at the thought of it. When I was a child I remember the great joy I had in choosing my package of valentines to give to my friends in school. I also remember the very great anxiety of checking my mailbox on my desk to see how many valentines I received. Apparently they don't do this in schools any more. Ming, who has extraordinary origami talents, made these hearts and packages and we filled them with our nonpareil covered chocolate disks from the Netherlands.