THIS IS AN ARCHIVE OF EVERYTHING KIOSK HAS COLLECTED. TO MEET THE DIGITAL, WE HAVE A PHYSICAL, CURRENTLY IN STORAGE IN NEW YORK. NOTHING YOU SEE HERE IS FOR SALE. PLEASE USE AS A REFERENCE AND AN INSPIRATION AND PLEASE WRITE US IF YOU HAVE ANY QUESTIONS OR INFORMATION TO SHARE.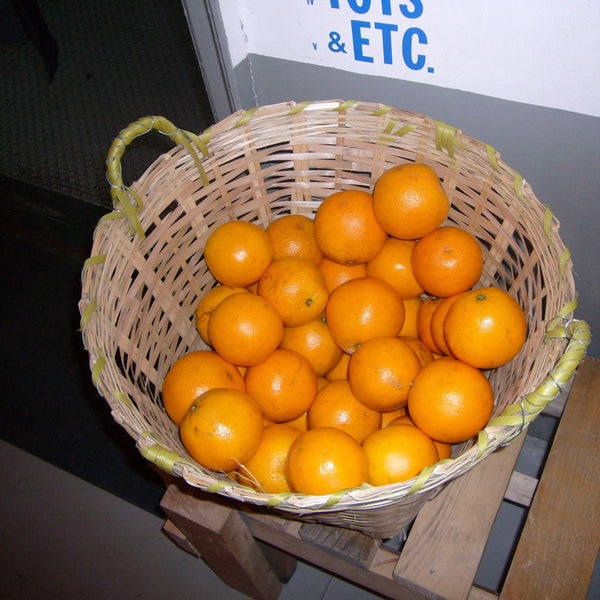 Valencia Oranges
Sizes vary 
Organic Valencia Oranges
USA
Oranges from Eagles Nest, delicious, juicy and organic since 1948. After visiting the grove we asked if we could stock their oranges, although we have never stocked fresh produce, because we were so impressed. Mary has owned the farm since the 80's and she runs it with a sharp eye. Working in their packing house from the 1920's she packs citrus from her own trees and for three other growers in the area. Talk about hectic, she did not stop moving during the two hours we spent with her. Packing boxes along with the crew, using the fork lift, making phone calls while checking the cleaning line, etc. She has played with the big guys and has also turned them down when the situation did not suit. To her there is only one way and it's her way. As a result her citrus is delicious and she has a reputation for being the best packer/supplier in the area. We put her oranges to the Citra sipper test; the orange did not crumble and we got a lot of juice! It's always really rewarding to find a demanding grower of healthy, organic food. How can you go wrong?