THIS IS AN ARCHIVE OF EVERYTHING KIOSK HAS COLLECTED. TO MEET THE DIGITAL, WE HAVE A PHYSICAL, CURRENTLY IN STORAGE IN NEW YORK. NOTHING YOU SEE HERE IS FOR SALE. PLEASE USE AS A REFERENCE AND AN INSPIRATION AND PLEASE WRITE US IF YOU HAVE ANY QUESTIONS OR INFORMATION TO SHARE.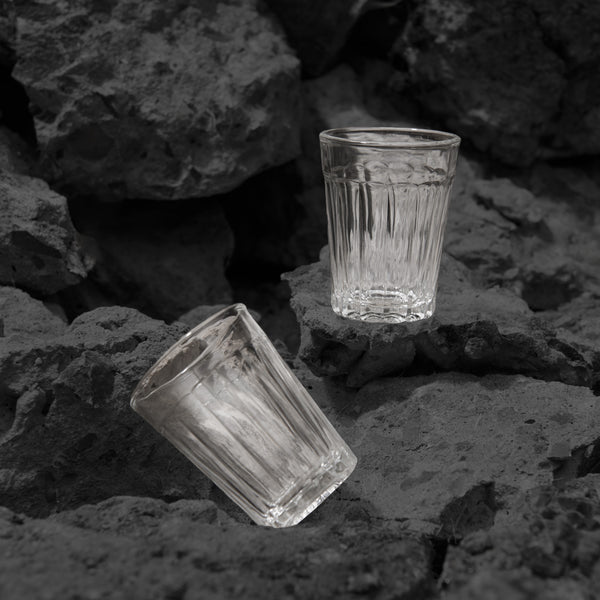 Tuica Glasses Set of 2
2.25" x 1.75"ø
Glass
ROMANIA
It was a night lit by a big old moon in the sky. We were sitting outside around the fire in the Apuseni mountains of Romania. It was chilly in that super fresh kind of way. One of us started nipping, should I say swigging, into the PET bottle of homebrew... a bit too often. But that very special person would not listen to me, instead he kept swigging and swigging until he could swig no more as the bottle was empty. Too drunk to realize what he had done, he dropped the bottle at his side and stumbled back to the room. Nature took its course. Bed spins and barfing all the way, for hours in a small, cosy, delightful, little room. I was responsibly sober by then and less than pleased, he was nude and ill. Clothes were thrown on and marching orders of the literal sense were given. Under the full moon of Romanian that old dog was forced to circle endlessly in the yard, his hair standing on end. Over time the long ovals became neater and neater circles and the drunk was finally allowed back in, hung-over and miserable an hour on.