THIS IS AN ARCHIVE OF EVERYTHING KIOSK HAS COLLECTED. TO MEET THE DIGITAL, WE HAVE A PHYSICAL, CURRENTLY IN STORAGE IN NEW YORK. NOTHING YOU SEE HERE IS FOR SALE. PLEASE USE AS A REFERENCE AND AN INSPIRATION AND PLEASE WRITE US IF YOU HAVE ANY QUESTIONS OR INFORMATION TO SHARE.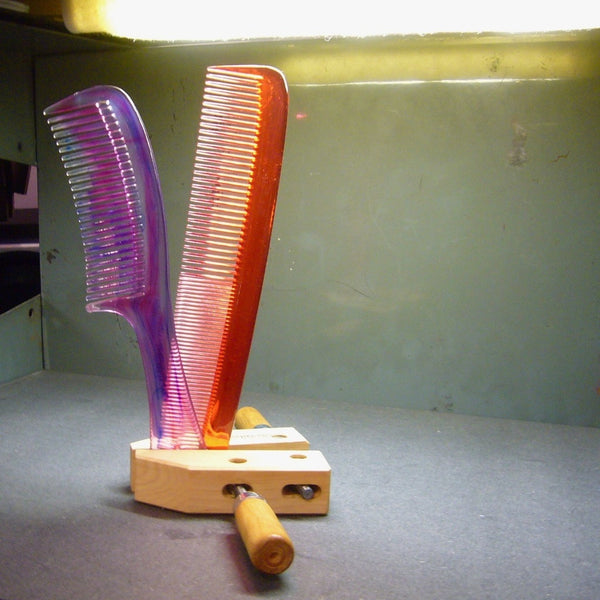 Transparent Comb Set
8.75" x 1.75" x .25"
Styrene
USA
Hey, have you been to Leominster? Not Leo-minster as it is written, but "lemon-ster" as it is pronounced by them Yankees up there. Home of the pink flamingo - yes, it was created there - and, according to many, the birthplace of the American plastics industry (nickname: Pioneer Plastics City) - who knew? They have a great plastics museum, in fact; I would suggest you go by. The plastics industry in Leominster began with the popularity of hair combs in the 1770s; while they remained popular for some time, the flapper hairdos in the 1920s killed their popularity and pretty much the local plastics industry as well. What were 300 comb makers in its heyday has now whittled down to 2-4, depending on who you talk to. Times are tough for domestic plastic makers with the cost of oil being sky-high; these firms are struggling to keep producing. These two combs that look like lollipops are hope on the horizon - one for the back pocket (daylight styler), the other for around the house (trans. red dresser). Come on, lighten up!