THIS IS AN ARCHIVE OF EVERYTHING KIOSK HAS COLLECTED. TO MEET THE DIGITAL, WE HAVE A PHYSICAL, CURRENTLY IN STORAGE IN NEW YORK. NOTHING YOU SEE HERE IS FOR SALE. PLEASE USE AS A REFERENCE AND AN INSPIRATION AND PLEASE WRITE US IF YOU HAVE ANY QUESTIONS OR INFORMATION TO SHARE.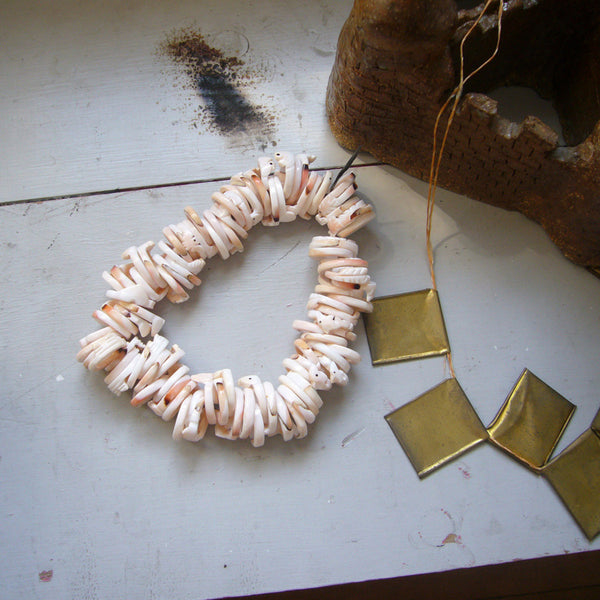 Three Carved Strombus Shell Rings
1" x 1" each
Strombus Shell
USA
Okay, this is a cheap thing; I want to be honest. But why not? I am tired of expensive jewelry. We were in the world-famous "Scott's Souvenir Shop" in beautiful and sunny downtown Lauderdale-by-the-Sea. While Marco was trying on ill-fitting sunshades for seniors, I was mulling around the alligators on pencils, shell chimes and night lights, wondering what I could extract from such an iconic Floridian souvenir shop. Ah, the shell rings! I like them! Let me be clear though - I don't like one at a time. It's half-baked! Two is a must, and three is even better. One with a character and two plain bands with notches all around. They look awesome with a tan. Every girl who spent time in Florida during her youth recognizes these rings. You should see the looks I get! It ranges from confusion, to awe, to tears. I am not sure why. We will pick out three for you from the assortment. Trust us! We trust you!