THIS IS AN ARCHIVE OF EVERYTHING KIOSK HAS COLLECTED. TO MEET THE DIGITAL, WE HAVE A PHYSICAL, CURRENTLY IN STORAGE IN NEW YORK. NOTHING YOU SEE HERE IS FOR SALE. PLEASE USE AS A REFERENCE AND AN INSPIRATION AND PLEASE WRITE US IF YOU HAVE ANY QUESTIONS OR INFORMATION TO SHARE.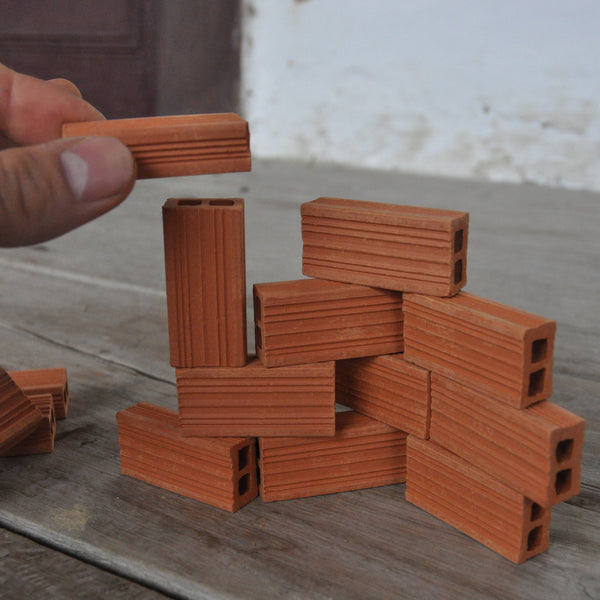 Terracotta Building Bricks
1.75" x .75" x .5"
Terracotta
COLOMBIA
Chris sent me a second package from Colombia and a set of bricks, plus the following note was inside: "Who would have thought? - Miniature terracotta building bricks. When I saw these I almost lost it. The most noticeable element of architecture here in Medellin is the terracotta brick. Need a wall, a roof, a staircase? Anything you can imagine, structural or not, can be built out of terracotta bricks. I first came across these miniatures in a market off of Parque Bolivar and then started noticing them for sale everywhere. They come in a range of sizes, getting as small as the nail on my pinky finger. Forget Lincoln Logs, good-bye Lego, these toy building blocks can be used for pretty much anything. My friend Aurelie placed a small one in a jar of cream the other night and shook it until she had a jar of butter. Having a blast, when you come to Colombia I am going to show you around. - Chris"