THIS IS AN ARCHIVE OF EVERYTHING KIOSK HAS COLLECTED. TO MEET THE DIGITAL, WE HAVE A PHYSICAL, CURRENTLY IN STORAGE IN NEW YORK. NOTHING YOU SEE HERE IS FOR SALE. PLEASE USE AS A REFERENCE AND AN INSPIRATION AND PLEASE WRITE US IF YOU HAVE ANY QUESTIONS OR INFORMATION TO SHARE.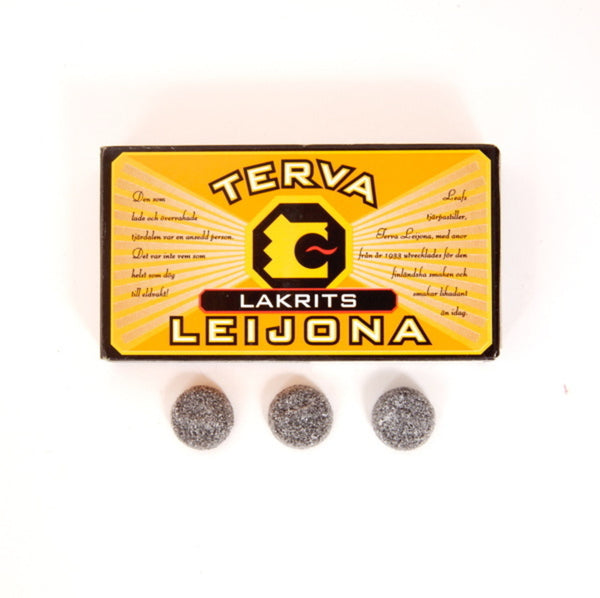 Tar Candy
3" x 2" x .5"
Sugar, Gum Arabic, Starch, Glucose, Licorice, Gelatin, Sorbitol & Color
FINLAND
To some people, summer is defined by the perfumed odor you have walking by warm train tracks. To others, summer is just a great time for candy. Well, some smart Finn said, "Let's combine the two!" Yes, this is tar candy! Very diluted wood-tar water is used to make these licorice pastilles have the distinct taste of tar. Tar was long considered a multi-cure that healed all illnesses and wounds - together with sauna and vodka, the three were the cornerstones of Finnish healthcare. Today, most would agree that too much tar gives you a stomach ache, too much sauna gives you headache and too much vodka will give you both. Nevertheless, in smaller quantities they are quite divine. Tar candy, much like sauna and vodka, does have a threshold before you start liking it. The first few pastilles will taste strange and unfamiliar, but soon all you will want to do is to walk along those train tracks with a tar pastille in your mouth!