THIS IS AN ARCHIVE OF EVERYTHING KIOSK HAS COLLECTED. TO MEET THE DIGITAL, WE HAVE A PHYSICAL, CURRENTLY IN STORAGE IN NEW YORK. NOTHING YOU SEE HERE IS FOR SALE. PLEASE USE AS A REFERENCE AND AN INSPIRATION AND PLEASE WRITE US IF YOU HAVE ANY QUESTIONS OR INFORMATION TO SHARE.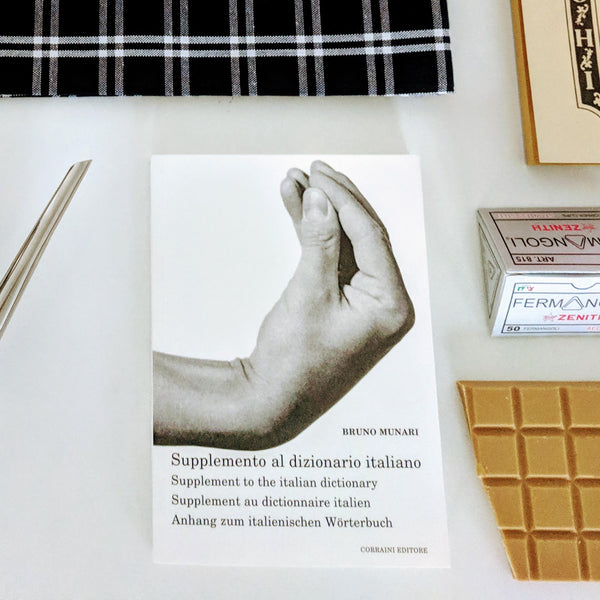 Supplement to the Italian Dictionary
ITALY
Paper
4.75" x 3.5"
Bruno Munari was without question a genius. Non c'è male, che culo, Mannaggia! All standard Italian sayings one must learn and know. Language aside, Italians do communicate in ways beyond language, it's about the body and the eyes, the gestures. Munari knew this and created for us outsiders a manual of sorts, a "Supplemento", published for our benefit in 1963. He notes however, he was not the first to do such a thing. The first goes way back to 1832 in Naples. Some of the gestures you will recognize, as with "OK" which is described as American in origin. The real help comes with "What a bore!" and "I don't care", two gestures one should be aware of and possibly use. The images from the late 50s tell a lovely Italian story. You can buy the American version of this book, however, the Italian one includes Italian, English, French and German which together on the page, offer an interesting cultural exchange. I carefully review this book before every trip I take to the motherland.