THIS IS AN ARCHIVE OF EVERYTHING KIOSK HAS COLLECTED. TO MEET THE DIGITAL, WE HAVE A PHYSICAL, CURRENTLY IN STORAGE IN NEW YORK. NOTHING YOU SEE HERE IS FOR SALE. PLEASE USE AS A REFERENCE AND AN INSPIRATION AND PLEASE WRITE US IF YOU HAVE ANY QUESTIONS OR INFORMATION TO SHARE.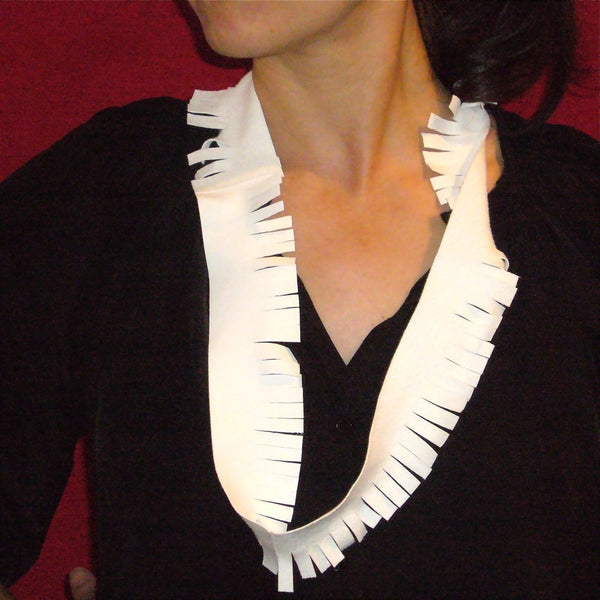 Slow and Steady Wins the Race Fringe Necklace
15" long x 2"
White Leather
New York City, USA
Slow and Steady Wins the Race is a clothing label by Mary Ping that is presented as a quarterly clothing diary. Past editions have included: sunglasses, shoes, sweats, etc... For Mini-Exhibition #10 Mary showed her 21st collection, "Birthday", which includes piñatas and accessories. This necklace was one of the 9 pieces in the edition; it is sold here on its own, but for an extra charge it (along with other piñata-type goodies) can be put inside one of her custom made piñatas. Who does not love a piñata? I had one for my birthday between the ages of 7 - 12; it was a sad day when I outgrew it. With such a sophisticated piñata, I can bring back the tradition again, but I WANT THE NECKLACE. What a party poop I am!