THIS IS AN ARCHIVE OF EVERYTHING KIOSK HAS COLLECTED. TO MEET THE DIGITAL, WE HAVE A PHYSICAL, CURRENTLY IN STORAGE IN NEW YORK. NOTHING YOU SEE HERE IS FOR SALE. PLEASE USE AS A REFERENCE AND AN INSPIRATION AND PLEASE WRITE US IF YOU HAVE ANY QUESTIONS OR INFORMATION TO SHARE.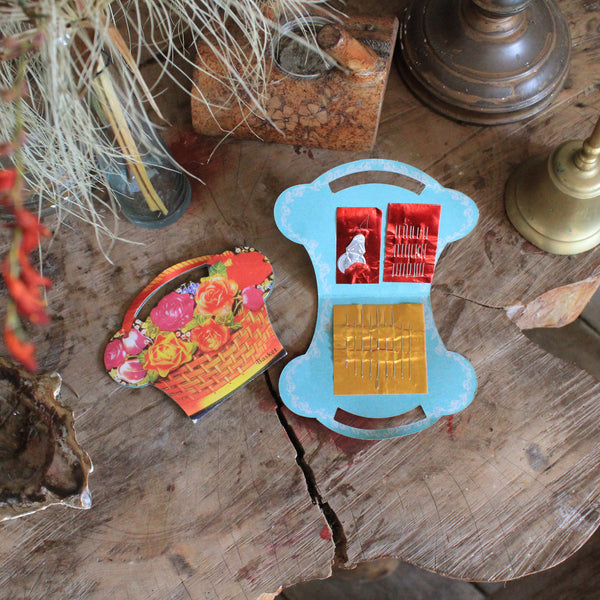 Sewing Needles
4.75" x 3.5"
Assorted Needles & Threader
COLOMBIA
At this point in time, no pun intended, I am wondering why every set of sewing needles has pieces of foil inside, different colors of foil, too - little bits, pieces. You know what I mean: boxes and flat envelopes, like this. I checked the little box we have, and the envelope-style needle set from Germany too. Something tells me the foil paper was a Victorian gimmick to set off the metallic needles, a "looky over here and see the sparkle." Or, someone believed the sparkle of the foil sent a good message: of sparkling needles. Although made in China, according to Chris, this object has been a standard in Colombia since time began, and you will find it in every General Store: a variety of needles for all your sewing needs. Helpful, as it says BASKET on the front, in case you forget what you are looking at. Before I go to Colombia, I am going to make sure I know how to say BASKET in Español.