THIS IS AN ARCHIVE OF EVERYTHING KIOSK HAS COLLECTED. TO MEET THE DIGITAL, WE HAVE A PHYSICAL, CURRENTLY IN STORAGE IN NEW YORK. NOTHING YOU SEE HERE IS FOR SALE. PLEASE USE AS A REFERENCE AND AN INSPIRATION AND PLEASE WRITE US IF YOU HAVE ANY QUESTIONS OR INFORMATION TO SHARE.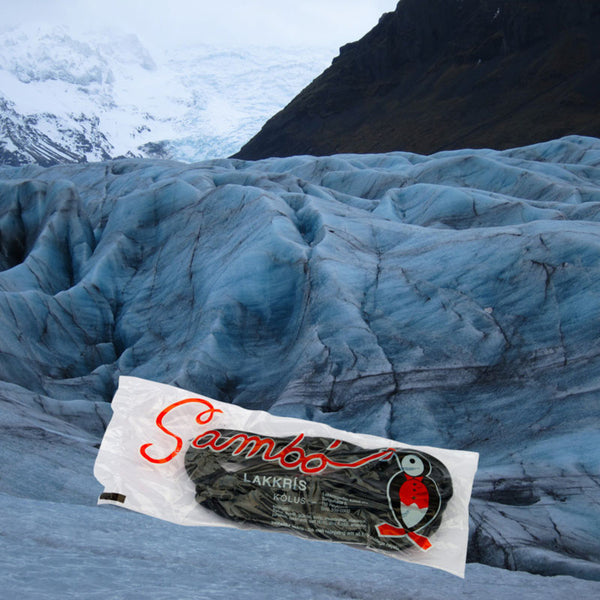 Sambo Licorice Rope
10" x 4"
Sugar, Wheat, Glucose Syrup, Licorice, Table Salt, Vegetable Fat, Color & Aniseed Oil
ICELAND
Sambo is one of the brands of Kólus, the most well-known licorice manufacturer in Iceland. We had a meeting with the seventy-year-old "Mr. Kólus", and, as much as we begged and pleaded, he refused to let us see the factory. I really thought I would be able to work my charms on him, but in the end all we had was an engaging conversation and no factory tour. You can't blame him, I guess. He told us how, month after month, teachers, union members, licorice club founders and children and mothers alike called and asked if they could see the factory. I kind of think he enjoyed saying NO… but, then again, they make the best licorice and it is better they concentrate on keeping it the best. I would not want anything to hinder their quality. It is top notch. The visit to his little wood-paneled office was one of the highlights of our trip. We talked and listened and giggled and ate a bunch of candy. At the end he told me I was a tough lady, stubborn and firm, not accepting NO, and he liked that. How lovely it was.