THIS IS AN ARCHIVE OF EVERYTHING KIOSK HAS COLLECTED. TO MEET THE DIGITAL, WE HAVE A PHYSICAL, CURRENTLY IN STORAGE IN NEW YORK. NOTHING YOU SEE HERE IS FOR SALE. PLEASE USE AS A REFERENCE AND AN INSPIRATION AND PLEASE WRITE US IF YOU HAVE ANY QUESTIONS OR INFORMATION TO SHARE.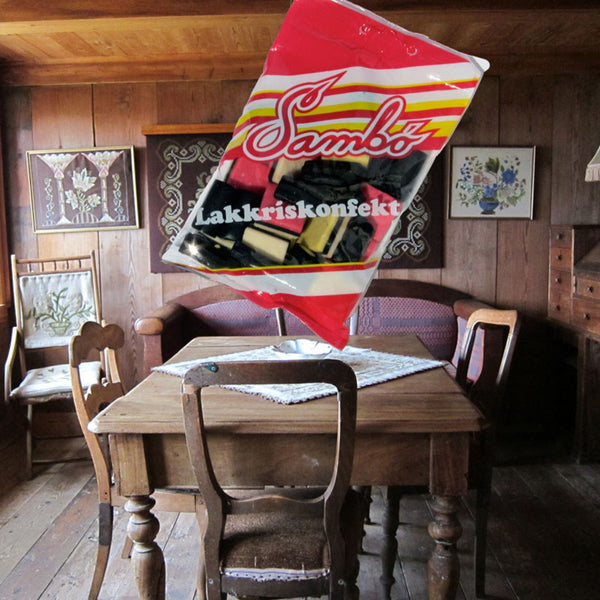 Sambo Licorice Allsorts
6.75" x 4", 110 g.
Sugar, Wheat Flour, Glucose, Coconut-flour, Cornflour, Invert-sugar, Vegetable Fat, Table Salt, Molasses, Gelatine, Licorice Extract, Salt, Cocoa-butter, Milk Powder, Cocoa Liquor, Acidum Lacticum & Coloring
ICELAND
I am pretty sure you are familiar with the British Allsorts invented by Basset's. This is it, but made in Iceland. My guess is Kolus got the idea of Allsorts from the British troops that were stationed on Iceland during WWII. I was surprised that Iceland felt more influenced by America and Britain than Scandinavia, as it is considered a Nordic country. At the beginning of the 1900s, Iceland was a sovereign state of Denmark, and you can still feel a touch of Danish influence, but only a touch. The country peacefully declared independence from Denmark in 1941. During WWII, America and Britain occupied the country, and, later, an American military base had a noticeable presence until 2006. Since 2006, the Icelanders have been on their own. I think it is good.