THIS IS AN ARCHIVE OF EVERYTHING KIOSK HAS COLLECTED. TO MEET THE DIGITAL, WE HAVE A PHYSICAL, CURRENTLY IN STORAGE IN NEW YORK. NOTHING YOU SEE HERE IS FOR SALE. PLEASE USE AS A REFERENCE AND AN INSPIRATION AND PLEASE WRITE US IF YOU HAVE ANY QUESTIONS OR INFORMATION TO SHARE.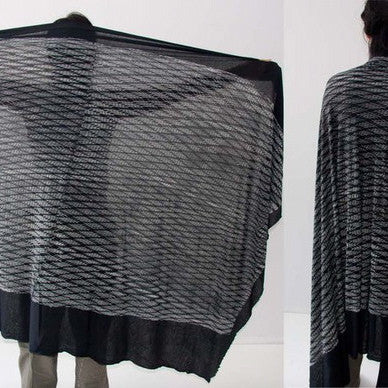 Salvor Scarf for Kiosk Paper
42" x 80"
Hand Printed Modal
New York, USA
Ross Menuez has given us a handful of scarves to sell at a greatly reduced rate as a donation from Salvor Projects to the KIOSK PAPER. How generous! How Kind! From one small business to another, a gift we pass onto you. Support yourself with a new scarf, support the KIOSK PAPER by buying a scarf. And while you are visiting us, visit Salvor Projects at THIS WEB ADDRESS. The thing I love about these scarves is the material is cool enough to use on a summer night but is totally warm enough in the winter. That is modal for you! Hey, check out the pattern! And what an amazing price! Thanks...