THIS IS AN ARCHIVE OF EVERYTHING KIOSK HAS COLLECTED. TO MEET THE DIGITAL, WE HAVE A PHYSICAL, CURRENTLY IN STORAGE IN NEW YORK. NOTHING YOU SEE HERE IS FOR SALE. PLEASE USE AS A REFERENCE AND AN INSPIRATION AND PLEASE WRITE US IF YOU HAVE ANY QUESTIONS OR INFORMATION TO SHARE.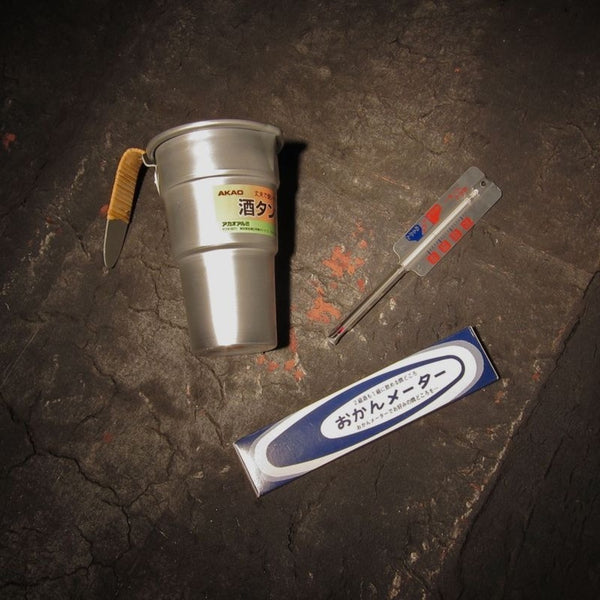 Sake Thermometer and Warming Cup
1.25" x 6.5"
Aluminum & Glass
JAPAN
Since 1947, Akao
has been producing aluminum objects.
In Japan, sake is enjoyed at different temperatures -
Chilled, room temperature and heated.
But as things go in Japan
there are numerous temperatures and variations.
For hot sake, atsukan, it is best at around 122 F.
This is the red mark on the thermometer.
The mark below is jyokan,
and below that is nurukan,
also hot sake temperatures, but less common.
One uses this cup
and the sake thermometer together
to heat the sake.
The cup gets placed in water
in a pot on the stove.
I never knew how to heat sake at home.
We were in a very small izakaya
the first night in Tokyo
and I saw the host using this cup.
So, we tracked it down for me and for you.