THIS IS AN ARCHIVE OF EVERYTHING KIOSK HAS COLLECTED. TO MEET THE DIGITAL, WE HAVE A PHYSICAL, CURRENTLY IN STORAGE IN NEW YORK. NOTHING YOU SEE HERE IS FOR SALE. PLEASE USE AS A REFERENCE AND AN INSPIRATION AND PLEASE WRITE US IF YOU HAVE ANY QUESTIONS OR INFORMATION TO SHARE.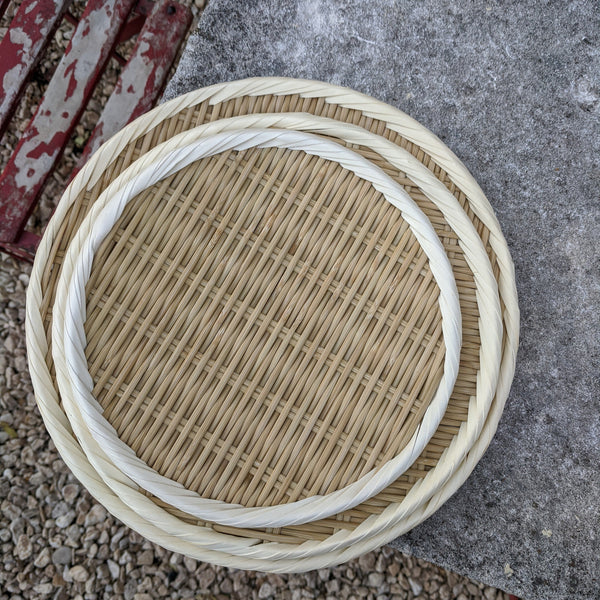 Round Japanese Strainers
Small: 8", Medium: 9.25", Large: 10.5"
Bamboo
JAPAN

We do have in our home a one, a two, a three, strainer/trays. Technically, sold as a strainer in Japan for which it does work quite well, in particular for washing greens and draining tofu. I mostly use my bamboo circles dry as trays: to serve toast on a cloth, to dry mushrooms, herbs and citrus peels and sometimes to display random cut things from the forest. I lay the cuttings flat on the strainer/tray. It acts as a very fine circular portal into the days events. I never use it as a hat although it could be helpful as a sun shade: balance strainer/tray on head, lay scarf over, tie scarf under chin. The descriptions could continue but I will stop here for the sake of all our sanity. Ultimately, in the ultimate object archive, this could be classified as a totally "universal object".