THIS IS AN ARCHIVE OF EVERYTHING KIOSK HAS COLLECTED. TO MEET THE DIGITAL, WE HAVE A PHYSICAL, CURRENTLY IN STORAGE IN NEW YORK. NOTHING YOU SEE HERE IS FOR SALE. PLEASE USE AS A REFERENCE AND AN INSPIRATION AND PLEASE WRITE US IF YOU HAVE ANY QUESTIONS OR INFORMATION TO SHARE.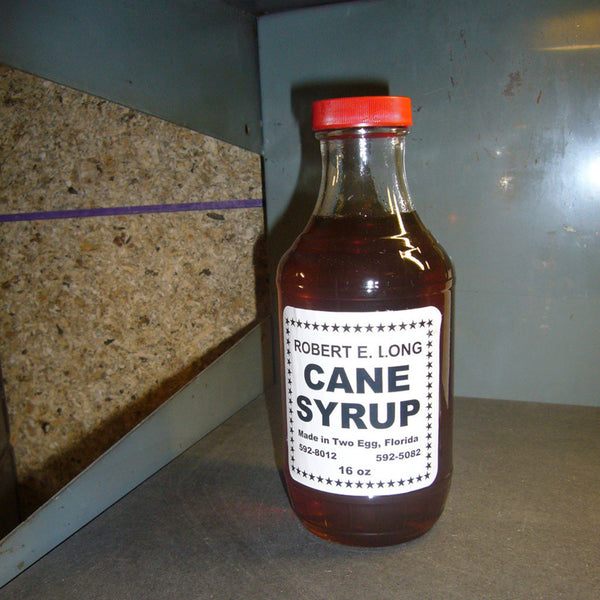 Robert Long Cane Syrup
7.5" x 2.5"ø
Cane Syrup
USA
Robert Long is a bit of a mystery man, I have to say. I read about his cane syrup, we went to the town of Two Egg, he was not in and his house looked fairly empty, even though there was a large sign offering cane syrup in his front yard. I called him again and again and finally got through after two weeks. I convinced him to send us some syrup, we got it and I have been trying to reach him since to order more, but no answer. It's great stuff. Some reports claim Two Egg is the birthplace of gorgeous Faye Dunaway, but more often I have read she is from nearby Bascom. This is deep in the Florida Panhandle - lovely people, too many damn churches, great cane syrup! Cane syrup is produced by sugarcane stalks being fed through a mill to squeeze out their juice, which is collected in a vat for cooking. After hours of careful heating and stirring to reach the right consistency, the hot syrup is done and ready for use. Sugar cane pretty much disappeared from the Florida Panhandle in the 50s, but in the past decade it has been making a comeback.