THIS IS AN ARCHIVE OF EVERYTHING KIOSK HAS COLLECTED. TO MEET THE DIGITAL, WE HAVE A PHYSICAL, CURRENTLY IN STORAGE IN NEW YORK. NOTHING YOU SEE HERE IS FOR SALE. PLEASE USE AS A REFERENCE AND AN INSPIRATION AND PLEASE WRITE US IF YOU HAVE ANY QUESTIONS OR INFORMATION TO SHARE.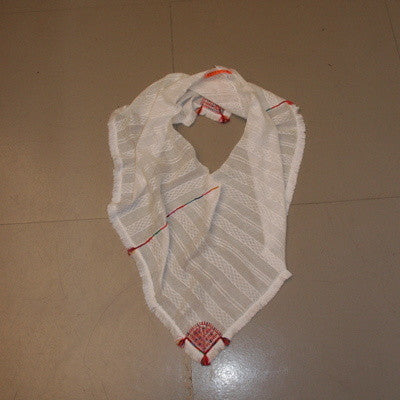 Quechquemitl
30" widest point x 14" narrowest point x 24" top to bottom
Cotton & Acrylic
MEXICO
From Northern Puebla state, in a region where the traditional costume is still quite common. It consists of a white (often embroidered) blouse, a white (sometimes pleated) skirt, a belt (which we offer for sale as well) with many colors, and the quechquémitl or huipile, as it is called in Nahuatl. The word may seem awkward to English speakers but to the 1.5 million people in Mexico who speak the language it is very common! The quechquémitl is woven on a backstrap loom. The strands of the warp of the fabric are stretched out in front of the weaver who patiently weaves the weft back and forth, picking out the delicate pattern with a needle as they go along. The process can take months. After they are done weaving the cloth they embroider it and often add trim or beads or sequins often the more decorative the better. Although it is in the shape of a poncho it is not worn that way, it is worn much like a scarf draped on the front of the body. It is a very special and unique textile piece, I have not seen them outside of the region.