THIS IS AN ARCHIVE OF EVERYTHING KIOSK HAS COLLECTED. TO MEET THE DIGITAL, WE HAVE A PHYSICAL, CURRENTLY IN STORAGE IN NEW YORK. NOTHING YOU SEE HERE IS FOR SALE. PLEASE USE AS A REFERENCE AND AN INSPIRATION AND PLEASE WRITE US IF YOU HAVE ANY QUESTIONS OR INFORMATION TO SHARE.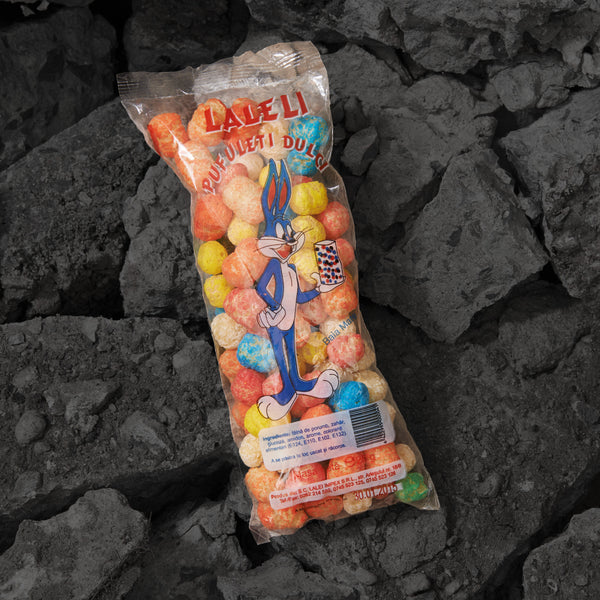 Pufuleti Dolci
25 g.,1 oz.
Cornflour, Sugar, Glucose, Starch, Flavoring & Coloring
ROMANIA
When some people travel, they want the best of the best only. The best view, eating experience, coffee, heath food store, park walk, etc., etc. - only the best will do. When we travel, we like to look to the mundane equally as much. You may have thought more of us but, wait a second, let me explain. Travel brings on all types of impulses and gravitating to odd foods can often be the result. Yes, pufuleti look like little packing materials and they even taste like the same too, but the fact is they are a common delight in Romania, and when in Rome, eat as the Romanians do. I took it up a notch and went for the Bugs bag as it reminded me of home. My father always said Bugs Bunny was fine to watch but The Flintstones was out. This was the first food I tried in Romania when we were on the way home from the market but certainly not my last and not the last time I ate it either. Tasty and unexpected!