THIS IS AN ARCHIVE OF EVERYTHING KIOSK HAS COLLECTED. TO MEET THE DIGITAL, WE HAVE A PHYSICAL, CURRENTLY IN STORAGE IN NEW YORK. NOTHING YOU SEE HERE IS FOR SALE. PLEASE USE AS A REFERENCE AND AN INSPIRATION AND PLEASE WRITE US IF YOU HAVE ANY QUESTIONS OR INFORMATION TO SHARE.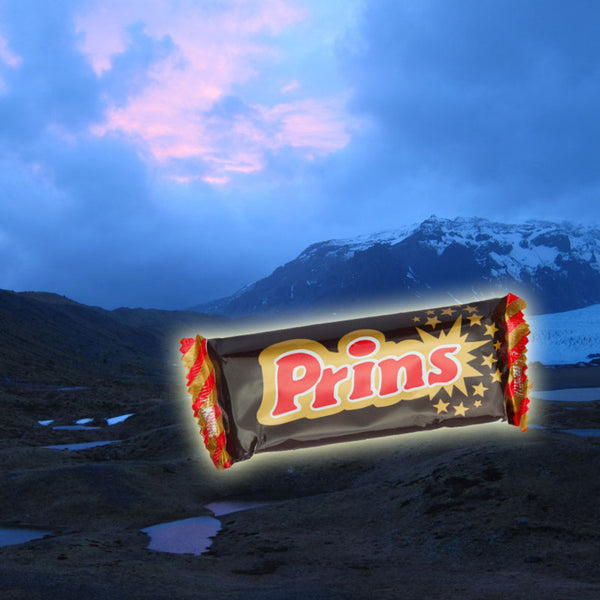 Prins Bar
6.5" x 2.25"
Wheat Flour, Sugar, Cocoa Butter, Cocoa Liquor, Whole Milk Powder, Vanillin & Lecithin
ICELAND
Prins is a domestic competitor to the wildly popular Prins Póló, a Polish chocolate bar that for many years was one of the few bars available in Icelalnd. How a Polish chocolate bar made such headway in the Icelandic market is not clear to me, particularly as there were very few candies imported into Iceland before 1980, when strict import laws on candy were relaxed. Perhaps it was a Cold War concession. These import laws are one of the reasons you still find a strong candy industry in Iceland. Another reason is Icelanders are nuts about candy and sugar like many other Scandinavians. I believe the high sugar cravings have to do with the lack of light during the winter months. In Iceland, there will often be not only one but two intermissions during a standard feature film, so that the viewers can restock their candy supply. Prins is a very simple wafer-based bar with chocolate filling, similar to a Kit Kat. One thing I am confused about is that Hraun by Góa was supposed to be the competitor to Prins Póló, but Góa also makes Prins. If someone can please explain...