THIS IS AN ARCHIVE OF EVERYTHING KIOSK HAS COLLECTED. TO MEET THE DIGITAL, WE HAVE A PHYSICAL, CURRENTLY IN STORAGE IN NEW YORK. NOTHING YOU SEE HERE IS FOR SALE. PLEASE USE AS A REFERENCE AND AN INSPIRATION AND PLEASE WRITE US IF YOU HAVE ANY QUESTIONS OR INFORMATION TO SHARE.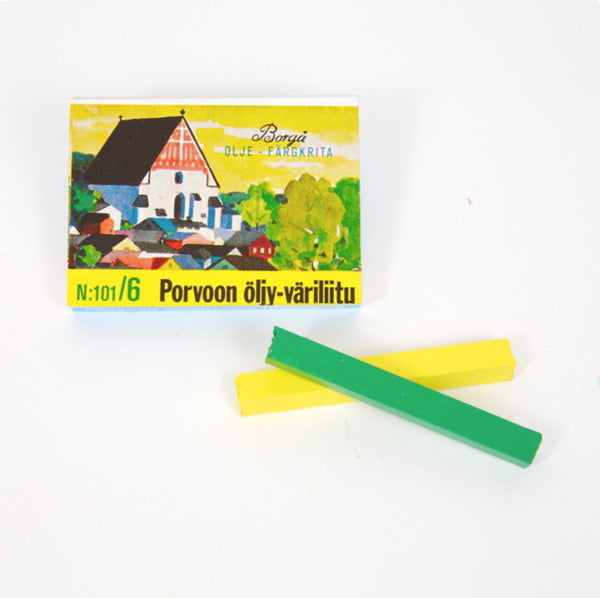 Porvoo Beeswax Crayons
Box: 3" x 2"
Beeswax & Pigment
FINLAND
100% non-toxic. The use of beeswax (rather than paraffin) as a binding agent not only means these can be eaten without fear but the natural wax allows the pigment to really shine through. Still hard to remove from furniture and walls. Why do kids always do that? What would Marco do if I had a free-flow moment of crayoning the walls? Maybe something brilliant - think of Sol Lewitt - but alas, I am afraid I would not be as successful. We visited the town Porvoo, where the crayons hail from. It's about a 30-minute drive from Helsinki. The large building in the illustration is the Porvoo cathedral. It is one of Finland's most important landmarks and where the Grand Duchy of Finland under Russian Tsar Alexander I was established in 1807 during the Finnish War between Sweden and Russia. Essentially, Finland was Swedish at the time, and in the cathedral the Russian Tsar declared it an autonomous state under his rule, making it in effect, Russian. Go to bed Swedish, wake up Russian! In May 2006, the cathedral was a victim of arson. Marco and I remarked on how dumb that kid is going to feel 20 years from now- "Duh, I set fire to one of my country's most important landmarks." There you have it.