THIS IS AN ARCHIVE OF EVERYTHING KIOSK HAS COLLECTED. TO MEET THE DIGITAL, WE HAVE A PHYSICAL, CURRENTLY IN STORAGE IN NEW YORK. NOTHING YOU SEE HERE IS FOR SALE. PLEASE USE AS A REFERENCE AND AN INSPIRATION AND PLEASE WRITE US IF YOU HAVE ANY QUESTIONS OR INFORMATION TO SHARE.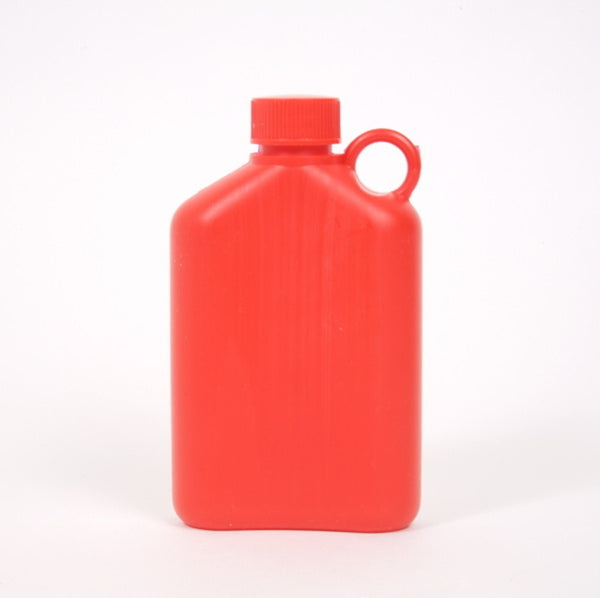 Plastic Pocket Flask
6" x 3" x 1"
Plastic
FINLAND
I need a flask. Why not? I like having a sip of some booze when it is cold, while I am out and about, city or country. Plastic suits me as it is light and non-precious. It looks a bit snobbish to take out shiny metal gear, also too obvious. In this flask, I could have a mixed fruit juice! The design has an interesting past and is made by an interesting company. In 1952, Plastex was the first manufacturer in Finland to produce plastics via blow-molding using an injection-molding machine they created themselves. The flask was modeled, as many of their first products were, on existing metal and glass products. Many Finnish people have a story about the flask - some say they used it in the military, others talk about being teenagers and filling it with mixed drinks, some say their kids take it to school or on picnics. One story I heard several times was the flask was filled with a soda and alcohol mixture. When it came to drinking time, getting it out of the pocket was close to impossible as it was shaken on the way and, because it is plastic, the flask expanded. This is a slight drawback. Getting a drink suddenly means having to take one's pants off. Oh dear, sexy you.