THIS IS AN ARCHIVE OF EVERYTHING KIOSK HAS COLLECTED. TO MEET THE DIGITAL, WE HAVE A PHYSICAL, CURRENTLY IN STORAGE IN NEW YORK. NOTHING YOU SEE HERE IS FOR SALE. PLEASE USE AS A REFERENCE AND AN INSPIRATION AND PLEASE WRITE US IF YOU HAVE ANY QUESTIONS OR INFORMATION TO SHARE.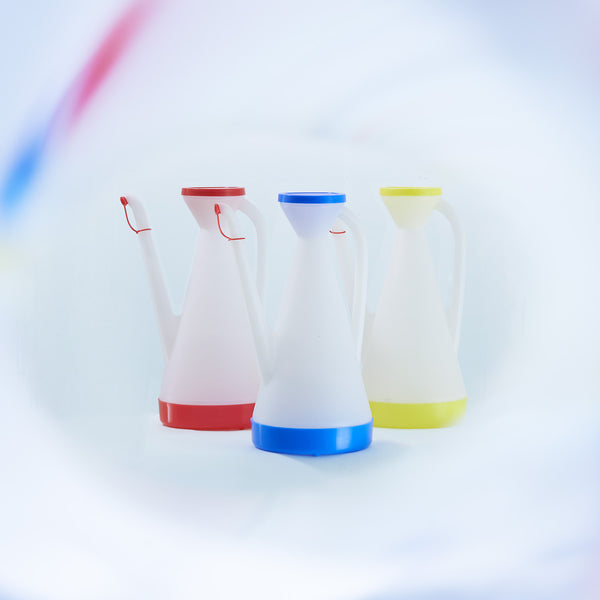 Plastic Olive Oil Container
7" x 5" x 10.5"
Plastic
GREECE
If you were to live in Greece - or any olive-oil-drenched, Mediterranean country - you would know not to skimp on the olive oil. It's so tasty on its own, and it makes all sorts of food, good or bad, fresh or near-rotting, almost as tasty as - sometimes even more delicious than - the liquid itself. My stepmother taught me to use two olive oils: the good one for salads, and the normal one for cooking. When heat is in the picture, it doesn't make sense to use that extra virgin, cold-pressed, foil-wrapped-and-babied oil. You just need quantity. This bottle supplies quantity and has a sort of oil-spill sock in the same color as the lid. It's crude, like another type of oil, but it's a great friend next to the stove. As I could not decide on a color, I use the second one for watering the plants, and the third for cheap wine.