THIS IS AN ARCHIVE OF EVERYTHING KIOSK HAS COLLECTED. TO MEET THE DIGITAL, WE HAVE A PHYSICAL, CURRENTLY IN STORAGE IN NEW YORK. NOTHING YOU SEE HERE IS FOR SALE. PLEASE USE AS A REFERENCE AND AN INSPIRATION AND PLEASE WRITE US IF YOU HAVE ANY QUESTIONS OR INFORMATION TO SHARE.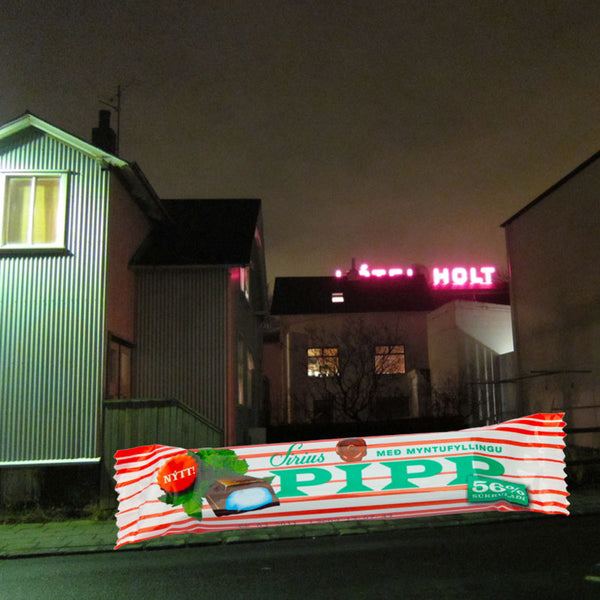 Pipp Mint Dark Chocolate
6.5" x 1.75", 55 g.
Dark Chocolate, Sugar, Glucose Syrup, Flavors & Enzymes (may contain traces of nuts)
ICELAND
Pipp was a mint grower in Akureyri who exclusively raised mint for the first five hundred years of the country's existence. In 1374, he switched to potatoes claiming they were more popular, not to mention easier to produce. Thankfully, his mint still grows wild on the fjords and along with it his namesake candy bar, a rich morsel found only by experienced hunters with the help of their Pipp-sniffing reindeer. It's understood that some years the reindeer find dark chocolate Pipp (red wrapper) and some years they sniff out the milk chocolate Pipp (green wrapper). Luckily for us, this was a very good year and they found both kinds of Pipp. In case you are not familiar with the famous candy, Pipp is a chocolate bar with a smooth and light mint filling. Very tasty. One would hope so—after all, it's over fifteen hundred years old!