THIS IS AN ARCHIVE OF EVERYTHING KIOSK HAS COLLECTED. TO MEET THE DIGITAL, WE HAVE A PHYSICAL, CURRENTLY IN STORAGE IN NEW YORK. NOTHING YOU SEE HERE IS FOR SALE. PLEASE USE AS A REFERENCE AND AN INSPIRATION AND PLEASE WRITE US IF YOU HAVE ANY QUESTIONS OR INFORMATION TO SHARE.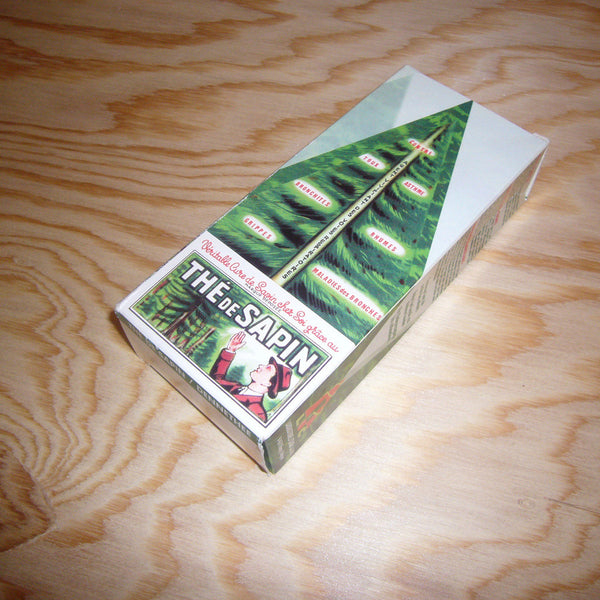 Pine Tea
6.5" x 3" x 1"
Blackberry, Carrageen, Papaveris Fructus, Thyme, Eucalyptus, Glycyrrhizae Rad., Grd Ivy, Anis, Hederae Terrestris, Erysimi, Capilli Veneri & Sage
BELGIUM
This was one of those really lovely scenarios and one of the reasons we both 1. Own KIOSK and 2. Talk about closing KIOSK. I actually found this pine tea years ago in Brussels, and rediscovered it last year in a storage box. I still thought it was beautiful: staying power! So I tracked down the maker and we called him. "Bonjour! Do you speak English?" -NO, click- Ok, ring ring, "Pardon, Msr., parlez-vous anglais?" -No- "Une autre personne?" -No, click- Donk! Marco! I need you to speak French to this man here! Marco spoke to him and is told, "The product is in every pharmacy in Belgium!" My reply: "C'est impossible!" And so on and so on, finally we got it here. It is an herbal tea, called Pine Tea, and it is good if you have a cold, cough, asthma, or respiratory illness.