THIS IS AN ARCHIVE OF EVERYTHING KIOSK HAS COLLECTED. TO MEET THE DIGITAL, WE HAVE A PHYSICAL, CURRENTLY IN STORAGE IN NEW YORK. NOTHING YOU SEE HERE IS FOR SALE. PLEASE USE AS A REFERENCE AND AN INSPIRATION AND PLEASE WRITE US IF YOU HAVE ANY QUESTIONS OR INFORMATION TO SHARE.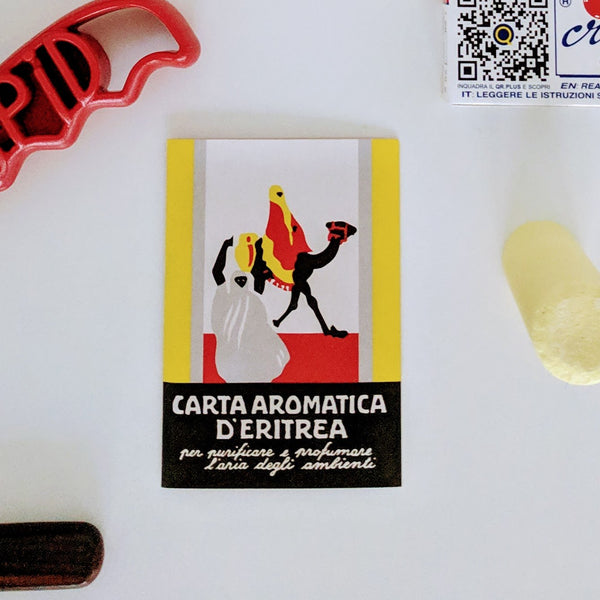 Perfumed Burning Papers
ITALY
Mysterious matter on paper, 24 strips
Each strip 3 3/4" x 3/4"
Created in 1927 with over 30 resins and balsams brought back from Eritrea and Somalia. Made by a Mr. Casanova, a man who was deeply engaged in the air purification techniques of palaces and hospitals in Africa. A smell well worth a whiff, if only one time.  An addictive odor in a way. Consider... sometimes a confusing whiff is better than a disgusting whiff of something else. According to the package, burn to perfume bedrooms, offices and laboratories, remove tobacco odors, odors from the kitchen or the toilet! They know how to sell! Use unburned to scent anything, a drawer, a car, the pets bed, a closet. At this rate you have little to loose and anyway, it all eventually goes up in smoke. Burn this or burn money. I don't know how money smells when burned but I am certain someone has tried to perfume their home with it.