THIS IS AN ARCHIVE OF EVERYTHING KIOSK HAS COLLECTED. TO MEET THE DIGITAL, WE HAVE A PHYSICAL, CURRENTLY IN STORAGE IN NEW YORK. NOTHING YOU SEE HERE IS FOR SALE. PLEASE USE AS A REFERENCE AND AN INSPIRATION AND PLEASE WRITE US IF YOU HAVE ANY QUESTIONS OR INFORMATION TO SHARE.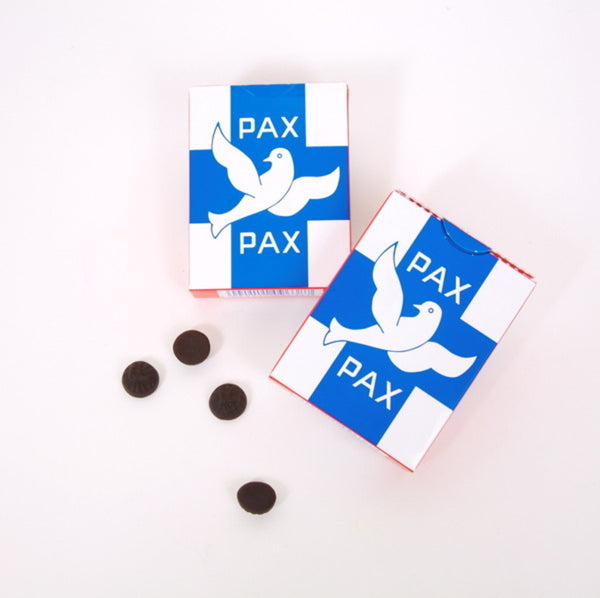 Pax Pastiles
3" x 2.5" x .5" 
Sugar, Stabilizer, Starch, Glucose, Licorice & Coloring
FINLAND
Peace or PAX. Pax was created in 1947 and got the nickname "the peace pastille" due to the name and package representing the Finnish flag and the dove of peace. Interestingly-launched at the end of the Cold War, in 1991 the production of the product stopped due to lack of customer demand. Also interestingly enough, they were re-launched due to customer demand during American's great Iraq - and don't forget Afghanistan War - it still continues. Mr. Bush should get a clue from the Finns and start eating some Pax - too bad if we sent him some I am afraid we'd be labeled a terrorist organization and KIOSK would slowly be swallowed into the dark shadow of the Patriot Act. PEACE.