THIS IS AN ARCHIVE OF EVERYTHING KIOSK HAS COLLECTED. TO MEET THE DIGITAL, WE HAVE A PHYSICAL, CURRENTLY IN STORAGE IN NEW YORK. NOTHING YOU SEE HERE IS FOR SALE. PLEASE USE AS A REFERENCE AND AN INSPIRATION AND PLEASE WRITE US IF YOU HAVE ANY QUESTIONS OR INFORMATION TO SHARE.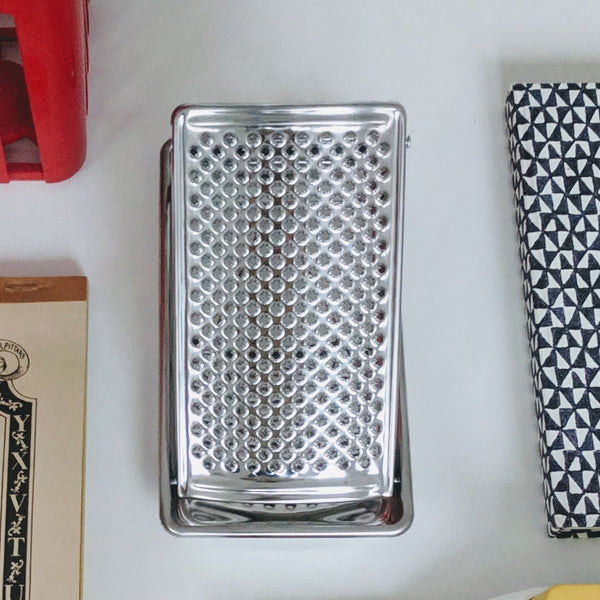 Grattugia Palate Cheese Grater
ITALY
Stainless Steel
4" x 8"
You know those stories you have heard about those crazy Italians and the circles they send you in? "A yes, a no, a yes yes, a no and no, a why not? an absolutely not, a thank you my friend, a who are you again? All those responses and more embodied in this little cheese grater. I hitta my head! I gratta the cheese! Formaggio! That's what it is a for! You get it on Monday, you get it on Friday, no it is coming on Monday next week, for sure for sure, maybe, maybe. I sell you what you need. No, I sell you only 500. You buy from my friend. You buy from me, yes, yes, but only 500. Why? I can't tell you why". I do love Italy. I want it more and more. Now about this product...you grate the cheese onto the tray. You flip up the grate, you serve the cheese on the table, the cheese stays inside. Ah, Grattugia! Con raccoglitore! Inossidabile...