THIS IS AN ARCHIVE OF EVERYTHING KIOSK HAS COLLECTED. TO MEET THE DIGITAL, WE HAVE A PHYSICAL, CURRENTLY IN STORAGE IN NEW YORK. NOTHING YOU SEE HERE IS FOR SALE. PLEASE USE AS A REFERENCE AND AN INSPIRATION AND PLEASE WRITE US IF YOU HAVE ANY QUESTIONS OR INFORMATION TO SHARE.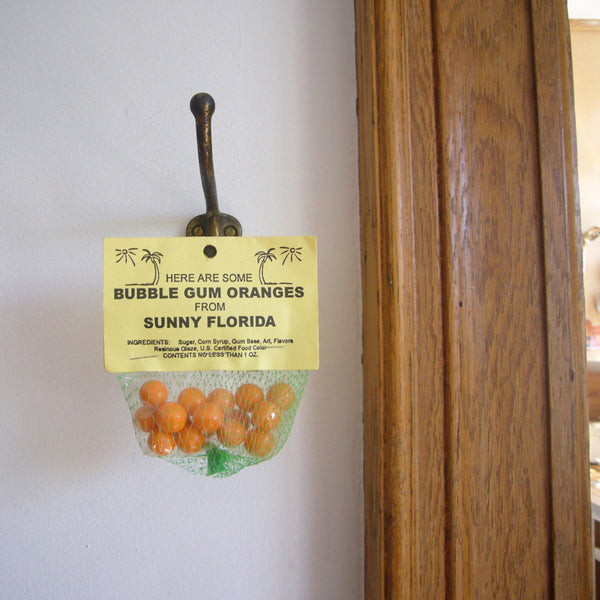 Orange Bubblegum
4" x 4"
Sugar, Corn Syrup, Gum Base, Art, Flavors, Resinous Glaze & U.S. Certified Food Color
USA
When I started asking people for tips and suggestions for Florida, this product came up again and again. "The little gum oranges in the crate." "The little orange bubblegum in the bag." "The baby oranges you can mail." "Those cute little oranges, very sweet - not a real orange but a candy or a gum." For as many descriptions of these gums you will find product variations, the reason being, many are made by small souvenir vendors and they each have their own style. Ours was made by Arthur, an older gentleman who told me he used to sell his wares up and down Miami Beach "in all those unique shops that are now gone." I like to support people like Arthur who stubbornly keep packing and selling their goodies and trinkets that, although cheap, they serve one purpose - to make others happy. Please note the gums can be mailed, the top card is a postcard. This is interesting.