THIS IS AN ARCHIVE OF EVERYTHING KIOSK HAS COLLECTED. TO MEET THE DIGITAL, WE HAVE A PHYSICAL, CURRENTLY IN STORAGE IN NEW YORK. NOTHING YOU SEE HERE IS FOR SALE. PLEASE USE AS A REFERENCE AND AN INSPIRATION AND PLEASE WRITE US IF YOU HAVE ANY QUESTIONS OR INFORMATION TO SHARE.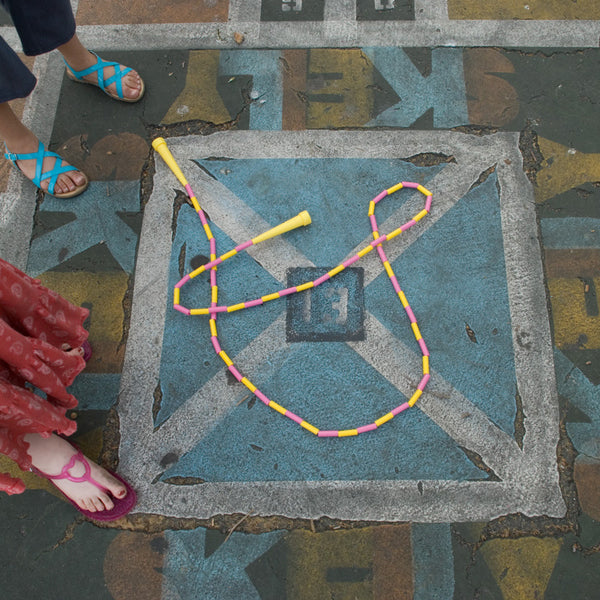 Olympic Jump Rope
9'
Plastic & Nylon Cord
USA
I just hung up with my friend, Irvin, who is from Oregon. He went back out there for a visit and never returned. We are anxiously awaiting him. Anyway, he told me Oregon gets the creative juices going, while New York is all about the execution of ideas. He was talking to me about how he could do the brainstorming from the woods out there, and I could do the executing. Uh, yeah, great deal...for one of us! When I got off the phone to slave away here in New York, I sat down to write, and the first product on my list was this jump rope made in Oregon. Creative - plastic chicklets on a string turned into a jump rope - yes. There's one for Irvin's theory - now lets see what you can execute with this. Looking at the jump rope, all I could remember was in 4th grade we all executed some crazy shit with this thing in the playground. Were you ever the kid in the center of a circle, holding one of these, crouched down and spinning as fast as you could, while the other kids would have to jump over the rope, or get their ankles whipped by its plastic glory? Remember the sound of the rope as it got dragged along the asphalt? Fear, alive, it breathes! And how ashamed you were every time you got nailed by it? Relive those days today with the same product that was first made 45 years ago. Ouch.