THIS IS AN ARCHIVE OF EVERYTHING KIOSK HAS COLLECTED. TO MEET THE DIGITAL, WE HAVE A PHYSICAL, CURRENTLY IN STORAGE IN NEW YORK. NOTHING YOU SEE HERE IS FOR SALE. PLEASE USE AS A REFERENCE AND AN INSPIRATION AND PLEASE WRITE US IF YOU HAVE ANY QUESTIONS OR INFORMATION TO SHARE.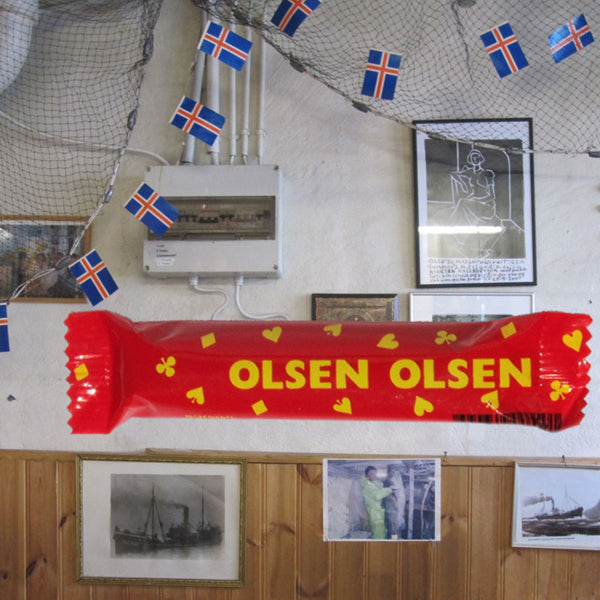 Olsen-Olsen
5.5" x 1.25"
Sugar, Wheat Flour, Glucose, Cocoa Butter, Cocoa Liquor, Milk Powders, Molasses, Syrup, Corn-Flour, Coconut Flour, Vegetable Fat, Licorice Extract, Gelatin, Table Salt, Lecithin, Colors, Flavors & Vanillin
ICELAND
The candy bar Olsen-Olsen is named after an Icelandic card game much like Uno or Go Fish. Note the spades, hearts, diamonds and clubs on the wrapper. The band Sigur Rós has a song of the same title, but apparently it derives from the card game, although I think it would have been way cooler if they named it after the candy bar. In the United States there is no doubt one could name it after the Olsen Twins, but please don't! This candy bar is NOT skanky, if you see what I mean. Take a bite and you will find a crazy concoction of licorice, caramel and chocolate in no particular order. An N1 gas station provided me with my first Olsen-Olsen late one night. Although Icelandic hot dogs are amazing (more on this later… and yes, my fellow vegetarians, I pulled a naughty one in Iceland. The Olsen-Olsen does circles around any doggie, any day.