THIS IS AN ARCHIVE OF EVERYTHING KIOSK HAS COLLECTED. TO MEET THE DIGITAL, WE HAVE A PHYSICAL, CURRENTLY IN STORAGE IN NEW YORK. NOTHING YOU SEE HERE IS FOR SALE. PLEASE USE AS A REFERENCE AND AN INSPIRATION AND PLEASE WRITE US IF YOU HAVE ANY QUESTIONS OR INFORMATION TO SHARE.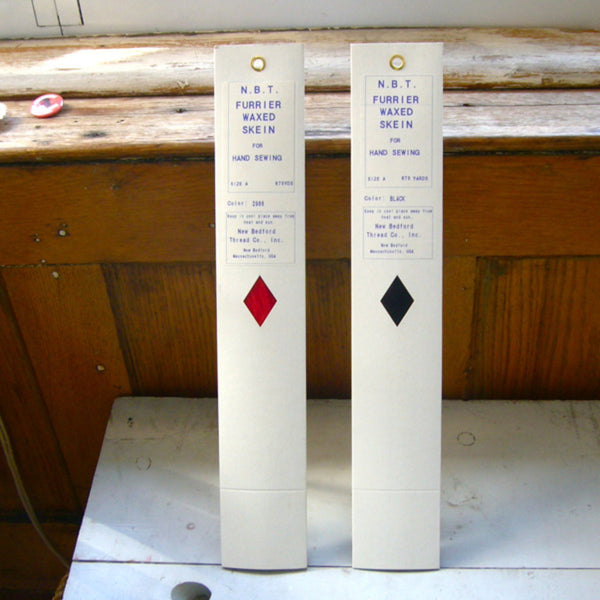 New Bedford Black & Red Waxed Thread
17.5" x 5"
Paper, Cotton & Wax
USA
This thread has been made in almost the same way since the late 1800s; we visited the factory and saw the Victorian machines that had been modernized to an extent, but not much. You see, the precise reason this thread is so good is the machines are not modern - not just to be cute but, technically speaking, contemporary machines run too fast! Despite being slow, every day they churn out 1,000 units of these babies, selling to countries all over the world, but particularly China. They can't make thread as good! While commonly used for furs, waxed thread is also used for high-end hand finishing and anything else you need to stitch. The card design should be noted. The ring on the top goes on a nail and the perforation on the card is broken, after which - the thread being looped inside - the package is cut. This allows for a system where the thread is hanging and one strand can be pulled out at a time. It comes in 40 colors, however, we think red and black are all you need for your home alternation needs.