THIS IS AN ARCHIVE OF EVERYTHING KIOSK HAS COLLECTED. TO MEET THE DIGITAL, WE HAVE A PHYSICAL, CURRENTLY IN STORAGE IN NEW YORK. NOTHING YOU SEE HERE IS FOR SALE. PLEASE USE AS A REFERENCE AND AN INSPIRATION AND PLEASE WRITE US IF YOU HAVE ANY QUESTIONS OR INFORMATION TO SHARE.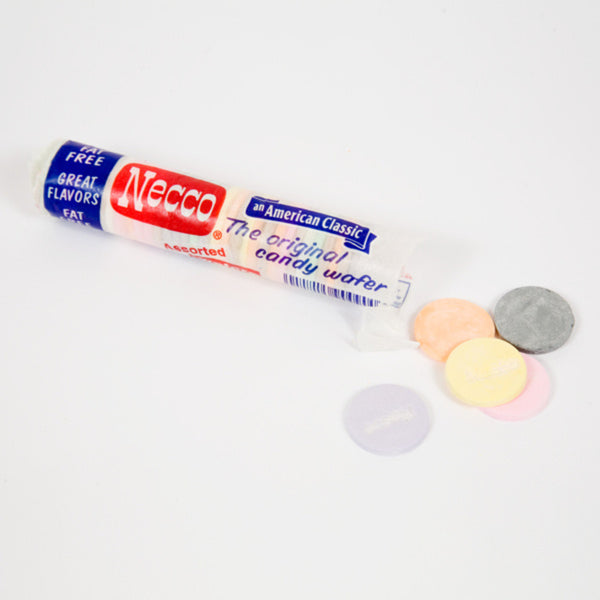 Necco Wafers
1"ø x 5"
Sugar, Corn Syrup, Gelatin, Gums, Colorings & Flavorings. Fat Free!
USA
Necco and I go way back. It all began as my father's candy of choice; he always had a roll in his front pocket and often enough my sister and I would make our way through the pack, guessing colors as we went along. Still, today, no one can identify the flavors; they remain the same since they were invented and here they are: yellow: lemon; orange: orange; green: lime; purple: clove; white: cinnamon; pink: wintergreen (or Pepto-Bismol - however you look at it); black: licorice; brown: chocolate. At one point, Neccos were so popular that each flavor was sold as an entire pack. Crunchy and calling to mind a communion wafer, the Necco was invented in 1847. After several attempts, I talked our way into a factory tour; did you know that Sweethearts are actually Neccos in another form? Necco is made by the New England Confectionary Company, the oldest multi-line candy company in the United States. They produce 4 BILLION wafers a year, enough to circle the globe TWICE. Take me to the moon!