THIS IS AN ARCHIVE OF EVERYTHING KIOSK HAS COLLECTED. TO MEET THE DIGITAL, WE HAVE A PHYSICAL, CURRENTLY IN STORAGE IN NEW YORK. NOTHING YOU SEE HERE IS FOR SALE. PLEASE USE AS A REFERENCE AND AN INSPIRATION AND PLEASE WRITE US IF YOU HAVE ANY QUESTIONS OR INFORMATION TO SHARE.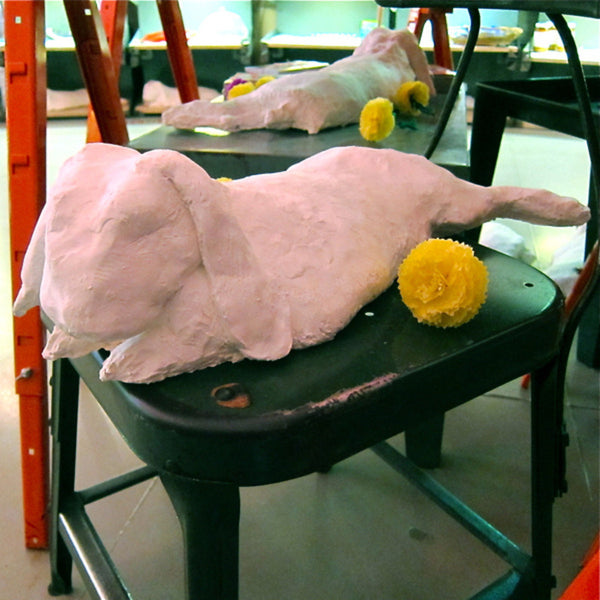 Mr. Hop
21" x 7" x 5.5"
Plaster
by Roger Geier
New York City, New York, USA
What is it called when an animal becomes so human you can see ones own reflection when you look at it? You know, for instance, when you see a portrait of a dog and a person, and you think that dog looks like that person, or vice versa, and you wonder, how? What happens when you make a portrait of an animal, and the animal makes you think of yourself, or what you would like to be doing, or how you would like to be? Lounging, content, slightly naive and happy, is this what we all long for? This brings me to Mr. Hop made by Roger Geier. Mr. Hop was the beloved pet of a friend of the Roger's. He was found as a stray in the East Village and lived a very long rabbit life. He was content, happy, and loved to stay at Roger's, as Roger let Mr. Hop roam freely throughout the studio to do what he wished. A nice life for Mr. Hop. Most of the time Mr. Hop would sit at Roger's feet while he was making his sculptures. One day, Roger decided to sculpt Mr. Hop in his perfectly peaceful, idyllic, lounging mode. Once Roger completed the sculpture, the real Mr. Hop began to lie next to his sculpted portrait. In fact, later on many animals found themselves happily lying next to the plaster Mr. Hop. His image is here to keep us, humans and animals, company all day long.