THIS IS AN ARCHIVE OF EVERYTHING KIOSK HAS COLLECTED. TO MEET THE DIGITAL, WE HAVE A PHYSICAL, CURRENTLY IN STORAGE IN NEW YORK. NOTHING YOU SEE HERE IS FOR SALE. PLEASE USE AS A REFERENCE AND AN INSPIRATION AND PLEASE WRITE US IF YOU HAVE ANY QUESTIONS OR INFORMATION TO SHARE.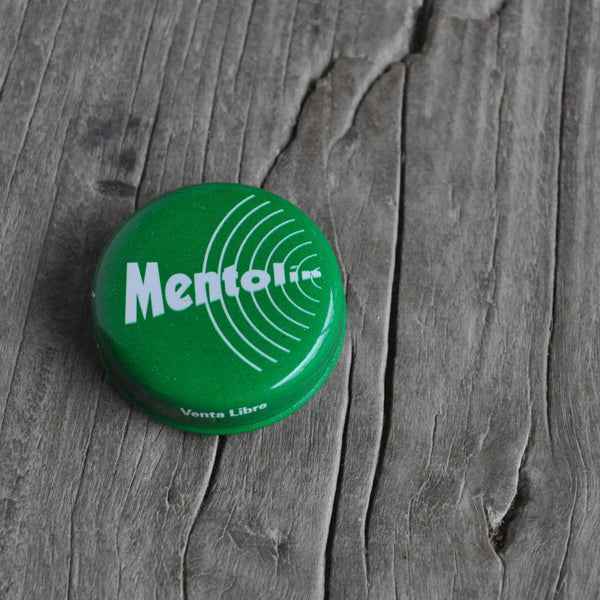 Mentolin
1.25" x .25"
Camphor, Methyl Salicylate & Menthol
COLOMBIA
Chris told me that whenever he travels, or in fact, whenever he gets to a house he has never been to, he checks in their medicine cabinet. He's not looking for anything bad, he's just curious. He told me that when he was in Colombia every single medicine cabinet he peaked into had a container of Mentolin. Every single one. When I go to Colombia, I am going to verify this. It's great for relieving congestion and also for aches and pains. The little container can go with you on any holiday or day trip into the woods. When I was seven years old we had some carpets installed in our house. My mother was really, really horrified as she heard one of the workers opening our medicine cabinet - I remember thinking it was strange too. Perhaps that person was only moonlighting as a carpet installer and working at some earlier incarnation of KIOSK. Perhaps they were only curious about the objects commonly in use in the world. My mom was convinced they were looking for painkillers or valium. The latter of which was of course on-hand in our house - it was the 70s after all. All I know is whenever I look inside someone's medicine cabinet I am totally paranoid.