THIS IS AN ARCHIVE OF EVERYTHING KIOSK HAS COLLECTED. TO MEET THE DIGITAL, WE HAVE A PHYSICAL, CURRENTLY IN STORAGE IN NEW YORK. NOTHING YOU SEE HERE IS FOR SALE. PLEASE USE AS A REFERENCE AND AN INSPIRATION AND PLEASE WRITE US IF YOU HAVE ANY QUESTIONS OR INFORMATION TO SHARE.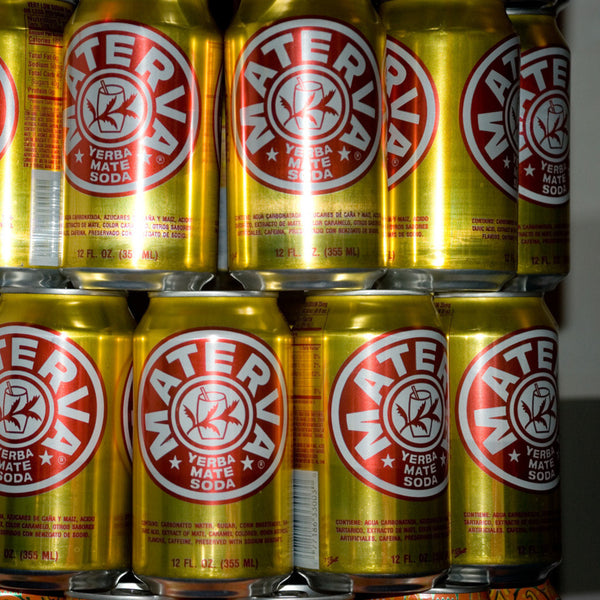 Materva Soda
12 fl oz.
Carbonated Water, Sugar, Corn Sweeteners, Tartaric Acid, Extract of Mate, Caramel Colored, Other Artificial Flavors & Caffeine, Preserved with Sodium Benzoate
USA
Holy moley! This soda gave me a caffeine rush like no other. It's the mate you see. I have sat down to drink mate out of a gourd plenty of times - one of the nicest things is to sip and refill the cup throughout the day, the buzz and intensity slowly dying down. Meanwhile, thinking I was familiar with mate, I proceeded to chug through almost a whole can in 10 minutes. Keeping in mind that I try to limit my sugar, this was a dangerous concoction for me. It hit me all at once - I looked at Marco with (I assume) spinning eyes, and was like, shit, this stuff has me floored, help get me out of here. The high did not last for long, but it was a little freaky. It made me understand how far my drug days are behind me. I have lost my edge, or rather, I was not used to the edge any longer. I still like Materva, but I drink it with caution and in little sips only.