THIS IS AN ARCHIVE OF EVERYTHING KIOSK HAS COLLECTED. TO MEET THE DIGITAL, WE HAVE A PHYSICAL, CURRENTLY IN STORAGE IN NEW YORK. NOTHING YOU SEE HERE IS FOR SALE. PLEASE USE AS A REFERENCE AND AN INSPIRATION AND PLEASE WRITE US IF YOU HAVE ANY QUESTIONS OR INFORMATION TO SHARE.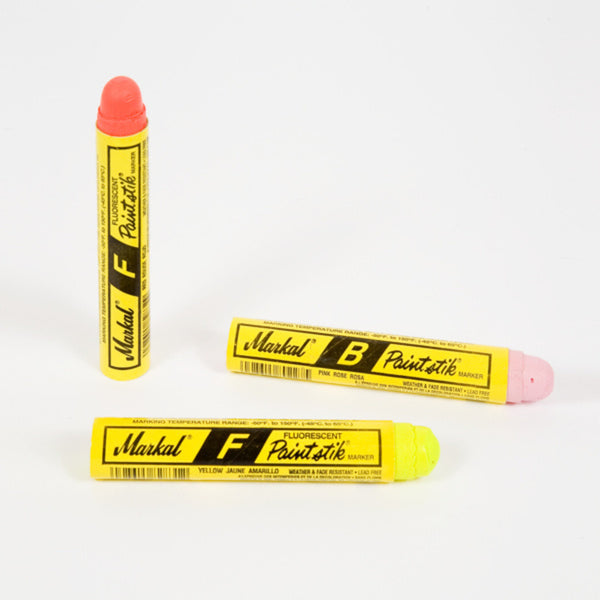 Markal Paintstick
.5"ø x 4.5"
Paint Pigment & Binder, No Lead
USA
When I called up Markal - a family-owned business established in the 1930s - I was excited. I had tracked them down! I loved their product, and I was ready to roll: "Can you send us some samples?" "Let me put you through to marketing." "To marketing? Huh?" You see, they just were not sure who I was, and they really did not think I would have much luck with their product because, well, they know who their product sells to and they would be happy to send me some samples of the things they thought I would find interesting. Three weeks go by - no samples...so I decide to call them back from our other division: "KIOSK Assembly Systems LLC, LTD, INC., here. We need a new marking pen to be used on the line. Could you, perhaps, send me a few colors I'm interested in?" After several days of "investigation," I was told, yes - I could have three samples - and I could absolutely not have more than three, even if I wanted to pay, because that's just how they do things." "Extras?" "Nope." "Why?" "Well, we just don't." Hence you have a collection of three here: to be used for assembly processing, household marking, street marking, etc. - but not on anything you do not want permanently marked. These babies stick!