THIS IS AN ARCHIVE OF EVERYTHING KIOSK HAS COLLECTED. TO MEET THE DIGITAL, WE HAVE A PHYSICAL, CURRENTLY IN STORAGE IN NEW YORK. NOTHING YOU SEE HERE IS FOR SALE. PLEASE USE AS A REFERENCE AND AN INSPIRATION AND PLEASE WRITE US IF YOU HAVE ANY QUESTIONS OR INFORMATION TO SHARE.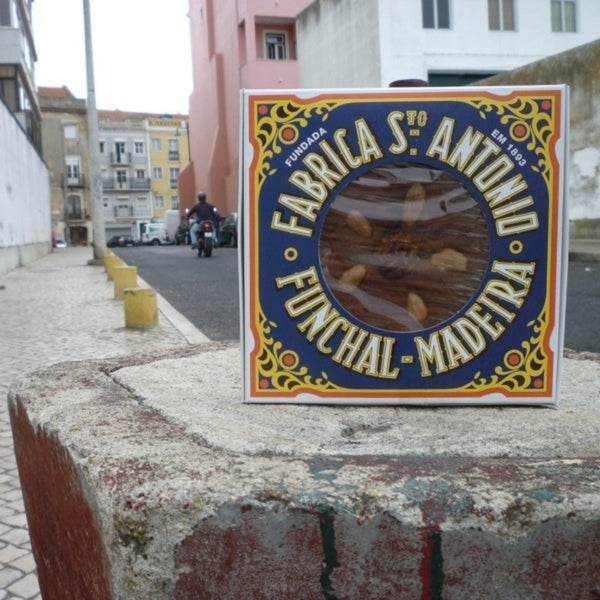 Madeira Cake
6.75" x 1.5"
Sugar Cane Molasses, Wheat Flour, Sugar, Animal Fat, Walnuts, Almonds, Prunes, Raisins, Crystalized Fruit, Spices & Yeast
PORTUGAL
A cake locally called "Bolo de Mel," which translates as "Honey Cake," although it is not made of bee honey but sugarcane molasses. Traditionally the cake is baked for Christmas on December 8th, considered to be the day of Mary's Immaculate Conception. It was historically only produced once a year with enough made to last the year; the cake is so dark and rich it lasts and lasts. The proper way to eat it is with your fingers, no knives, and consider taking a glass of Madeira wine on the side. I think it is a great Christmas substitute to the American-style fruit cake, the dreaded log! Another cake made annually, however, it often sits for 365 days as no one wants to eat it! Throw off your fruit cake chains, here is a yummy substitute and it will not be around the house for 365 days, so you'd better eat fast!