THIS IS AN ARCHIVE OF EVERYTHING KIOSK HAS COLLECTED. TO MEET THE DIGITAL, WE HAVE A PHYSICAL, CURRENTLY IN STORAGE IN NEW YORK. NOTHING YOU SEE HERE IS FOR SALE. PLEASE USE AS A REFERENCE AND AN INSPIRATION AND PLEASE WRITE US IF YOU HAVE ANY QUESTIONS OR INFORMATION TO SHARE.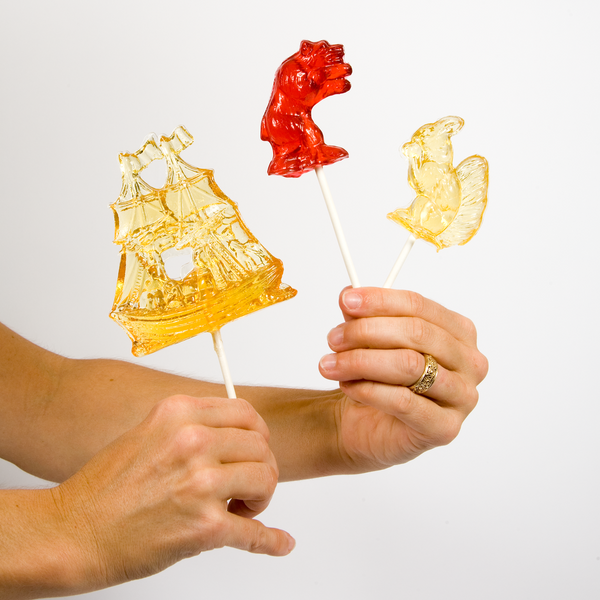 Lollipops: Windjammer, Grizzly, Squirrel
Largest: 5.25" x 4.25"
Sugar, Water & Cream of Tartar
USA
Clear lollies made in the traditional way using candy molds that are a hundred years old; the maker has a collection of 300 of them. How fast you pour the lollies determines how clear they will be; clearness = perfection. Colors: clear, red and green. The tradition was brought to America by German immigrants who historically produced them at Christmas, hanging the little ones in the tree. We chose these forms to represent Massachusetts, the state we focused on for this first collection: windjammer boat = boat = the Mayflower; bear = black bears = the Berkshires; squirrel = the famous black squirrels of Westfield. Flavor = Sugar Beauty = 100%!