THIS IS AN ARCHIVE OF EVERYTHING KIOSK HAS COLLECTED. TO MEET THE DIGITAL, WE HAVE A PHYSICAL, CURRENTLY IN STORAGE IN NEW YORK. NOTHING YOU SEE HERE IS FOR SALE. PLEASE USE AS A REFERENCE AND AN INSPIRATION AND PLEASE WRITE US IF YOU HAVE ANY QUESTIONS OR INFORMATION TO SHARE.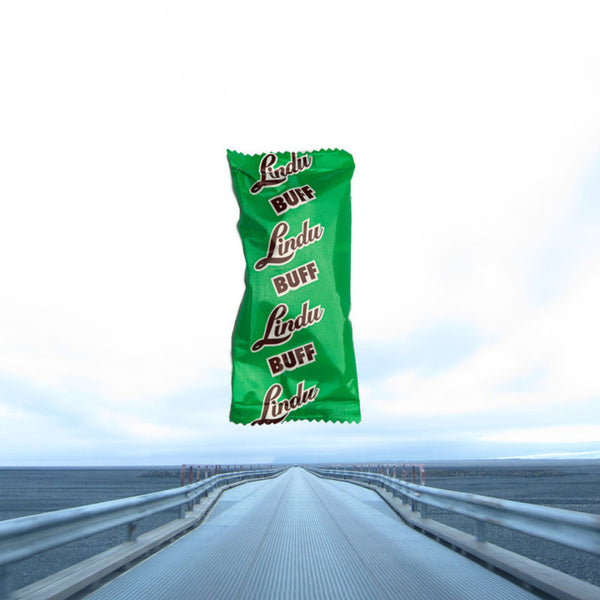 Lindu Buff
5.5" x 2.5"
Sugar, Glucose Syrup, Cocoa Butter, Milk Powder Cocoa Liquor, Skimmed Milk Powder, Binding Agent, Soya Lecithin, Milk Proteins & Vanillin (could contain traces of hazelnuts, almonds, and coconuts)
ICELAND
Established in 1949, Lindu is one of the oldest candy factories in Iceland, located, interestingly enough, in Akureyri, a city in the north of the country, rather than Reykjavik. In 1993 Lindu was bought by Góa. Today there are four major candy manufacturers in Iceland: Góa, Nói Sirius, Freyja and Kólus. Each company has its own distinct angle and personality, even though they tend to have similar competing products. From what we found, the BUFF, which translates to "steak", has no competition. The inside is described as cream but it's not cream as you know it, such as the cream eggs that you have for Easter. It's a cream-meets-marshmallow, but don't think it is marshmallow either. It's something else. Imagine if you took a Charleston Chew and made the inside smooth and creamy. Are you BUFF enough? Please eat with caution. A BUFF will not make you more BUFF nor make your gut tough.