THIS IS AN ARCHIVE OF EVERYTHING KIOSK HAS COLLECTED. TO MEET THE DIGITAL, WE HAVE A PHYSICAL, CURRENTLY IN STORAGE IN NEW YORK. NOTHING YOU SEE HERE IS FOR SALE. PLEASE USE AS A REFERENCE AND AN INSPIRATION AND PLEASE WRITE US IF YOU HAVE ANY QUESTIONS OR INFORMATION TO SHARE.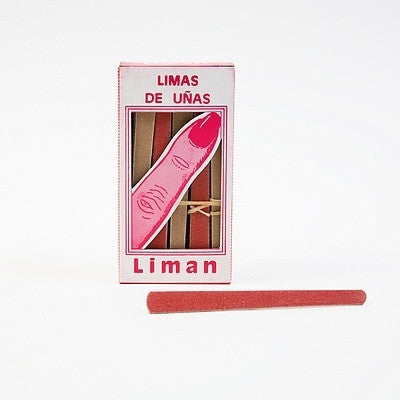 Limas De Unas
2.5" x 1.5" x 5", 100 pieces
Paper & Sand
MEXICO
Don't bite but file your nails endlessly; here you have a year's supply to keep you busy. On the other "hand" the box is a great historical piece of graphic design. Given they are Mexican files, you can be assured of the best claws one can get. Meow! Eiye! Eiye! Ow!