THIS IS AN ARCHIVE OF EVERYTHING KIOSK HAS COLLECTED. TO MEET THE DIGITAL, WE HAVE A PHYSICAL, CURRENTLY IN STORAGE IN NEW YORK. NOTHING YOU SEE HERE IS FOR SALE. PLEASE USE AS A REFERENCE AND AN INSPIRATION AND PLEASE WRITE US IF YOU HAVE ANY QUESTIONS OR INFORMATION TO SHARE.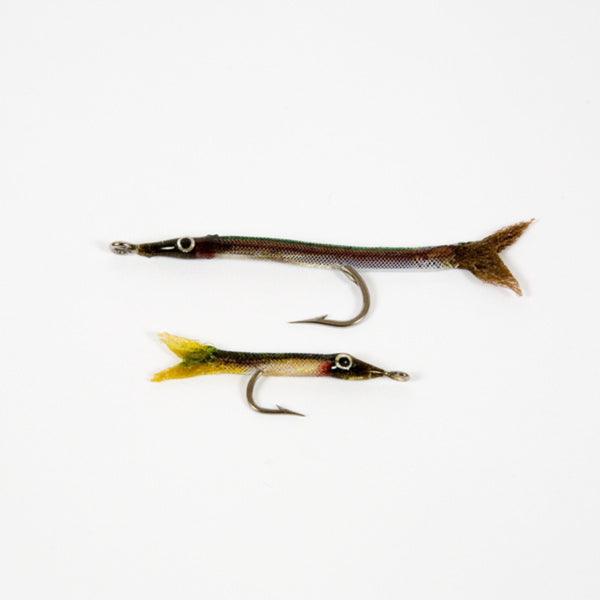 Lepore Small & Large Sand Eel Fly
Small: 1.75" x .5"
Large: 3" x .5"
Yarn, Corsair Tubing, Permanent Marker & Epoxy
USA
What kind of characters are these? Ed Lepore began making them 15 years ago. Used for salt water fishing to catch striped bass and bluefish - the fish can sometimes chew these guys up, but otherwise they should last you a lengthy amount of time. Sitting on your desk or on your bookshelf or your wall, they will last even longer. Pretty soon, I am going to have a nice little collection of lures, flies and jigs - not that I know what those terms really mean. All I know is I like their looks; they entertain me and make me laugh. If you think about it, after hours of fishing on your own at sea or even with a silent buddy, you need a lure that makes you crack up...then imagine if the weather is bad as well. You need a friend in your jig - you gotta have heart! A companion? Do you think fishermen have conversations with their lures? Perhaps even ventriloquism? Ahoy, Matey! Ahoy, sand eel buddy! Do fish speak in bubble talk? Oh no, I think I just talked myself into removing fish from my diet - crap...down to veggies alone. Shit, I think these flies are brainwashing me...