THIS IS AN ARCHIVE OF EVERYTHING KIOSK HAS COLLECTED. TO MEET THE DIGITAL, WE HAVE A PHYSICAL, CURRENTLY IN STORAGE IN NEW YORK. NOTHING YOU SEE HERE IS FOR SALE. PLEASE USE AS A REFERENCE AND AN INSPIRATION AND PLEASE WRITE US IF YOU HAVE ANY QUESTIONS OR INFORMATION TO SHARE.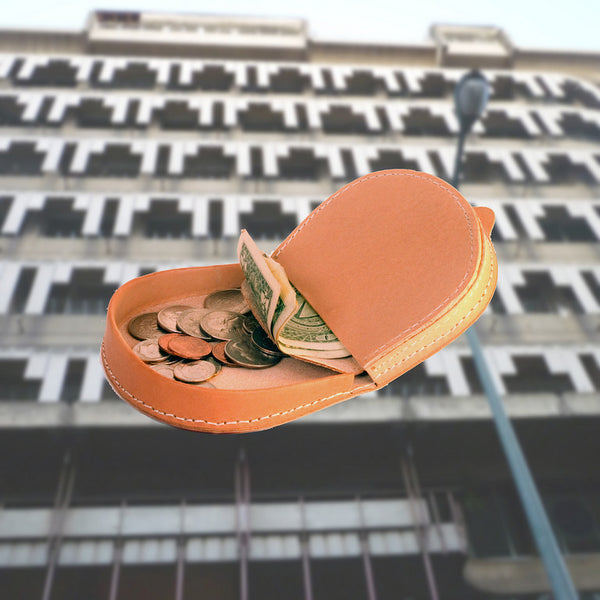 Leather Coin Wallet
4.25" x 3.25" x 1"
Leather & Waxed Cotton
PORTUGAL
Since it is called a horseshoe wallet, I wonder if it brings you good luck financially. After all, a horseshoe brings luck, and this is a wallet. Our friend Lydia showed us her version before we left for Portugal. I particularly liked how, when opened, one side creates a shallow dish to hold coins, bills, etcetera. It makes it much easier to find things when one has a little tray. I have owned a Comme des Garçons wallet for 10 years; it has survived a flood, a fire, and a theft. I got it back with the help of Domino's (the thief had ordered a pizza!). For some time, it has been up for replacement. But with what? Wallets are very personal. Our model, #3, is made near Estremoz on the outskirts of the Portuguese "desert." It ages well. We include a $1 bill in each; as my grandmother always said, it is bad luck to present an empty wallet to someone. Although you are buying ours from us, I still think it is appropriate.